Last updated on: 30th Mar 2017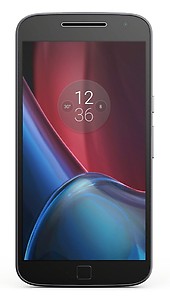 Moto G4 Plus Price in India
Moto G4 Plus price in India from
4 stores in India

from

Rs.

11499 -

Rs.

15350
Store Name
Additional Info
Price in India

16 MP primary camera with laser focus, PDAF and profe.. 16 MP primary camera with laser focus, PDAF and professional mode, 5 MP wide angle front camera with display flash Finger print reader for fast unlocking, 13.97 centimeters (5.5-inch) full HD display, 1920 x 1080 pixels resolution and 401 ppi pixel density, Corning Gorilla Glass 3 Android v6.0.1 Marshmallow OS (upgradable to Android v7.0 Nougat) with Motorola mobile computing system, including 1.5 GHz MSM8952 Qualcomm® SnapdragonTM 617 octa-core processor with 550 MHz Adreno 405 GPU, 2GB RAM, 16GB internal memory expandable up to 128GB and dual micro-SIM dual-standby (4G+3G) 3000 mAh all day battery with TurboPower charging (6 hours of power in 15 min of charging) 1 year manufacturer warranty for device and 6 months manufacturer warranty for in-box accessories including batteries from the date of purchase + more

Show 3 more offers

Show 1 more offer

(6 Months seller Warranty) This is a Refurbished prod.. (6 Months seller Warranty) This is a Refurbished product. This is a refurbished gadget which was returned to the manufacturer or vendor for various reasons. The product is 100% quality tested and re... + more
Moto G4 Plus Price Trends
Moto G4 Plus price at Shopclues has fluctuated between Rs. 11799.0 and Rs.12499.0 in the last 3 months
The lowest online price for this product in the last 3 months was Rs. 11249.0 at Scandid
Moto G4 Plus price at Ebay has fluctuated between Rs. 11490.0 and Rs.17999.0 in the last 3 months
The current price from Ebay is Rs. 14999.0
The lowest online price for this product in the last 3 months was Rs. 11249.0 at Scandid
Moto G4 Plus price at Rediff has remained constant at Rs. 15350.0 in the last 3 months
The current price from Rediff is Rs. 15350.0
The lowest online price for this product in the last 3 months was Rs. 11249.0 at Scandid
The lowest online price for this product in the last 3 months was Rs. 11249.0 at Scandid




The prices in the Price Trend graph do not include coupon savings.
Moto G4 Plus Specifications
Model Number
Moto G Plus, 4th Gen
Operating System (Os)
Android v6.0.1 Marshmallow operating system with Motorola mobile computing system
Processor
1.5 GHz MSM8952 Qualcomm SnapdragonTM 617 octa-core processor with 550 MHz Adreno 405 GPU
Display
13.97 centimeters (5.5-inch) full HD display, 1920 x 1080 pixels resolution and 401 ppi pixel density, Corning Gorilla Glass 3
Resolution
1920 x 1080 pixels resolution and 401 ppi pixel densit
Type Of Sim
micro-SIM dual-standby (4G 3G)
Memory Internal
3GB RAM, 32GB internal memory
Expandable Memory Slot
expandable up to 128GB
Standard Battery Features
3000 mAh all day battery with TurboPower charging (6 hours of power in 15 min of charging)
Internet & Connectivity
GSM, (850/900/1800/1900 MHz), 3G, (2100/850/900 MHz), 4G, (2100/1800/850/900 MHz), B40, TD, (2300 MHz), WiFi 802.11 a/b/g/n
Mobile Dimensions
15.3 x 0.8 x 7.7 cm
Handset Color
Black , White
Camera
16 MP primary camera with laser focus, PDAF and professional mode, 5 MP wide angle front camera with display flash
Other Features
Finger print reader for fast unlocking, 13.97 centimetersDual SIM, Proximity sensor, Accelerometer, Ambient light sensor, Gyroscope, Sensor hub, Finger print sensor, TurboPower Charging, Camera with laser focus and phase detection auto focus (PDAF)
Wireless Communication Technologies
Bluetooth
Form Factor
Touchscreen Phone
Whats In The Box
Handset, Headset, Wall Charger and User Guides
Best Sellers Rank
#19 in Electronics (See top 100) #12 in Electronics > Mobiles & Tablets > Smartphones & Basic Mobiles > Smartphones
Date First Available
17 May 2016
Moto G4 Plus Coupons
There are 1 coupons available for this product: 1 for ebay
Ebay
See all ebay coupons
I know it's way lengthy, but trust me, worth your time
By Impeccableon Oct 2, 2016 12:00:00 AM
Given the exceptional device and service provided by Amazon, Amiable Electronics Pvt Ltd and Motorola, I am obliged to write this review.For all those, seeking genuine review, U can trust me. Had 2 devices in hand, compelling me to write this review.Have to say, was quite impressed with the delivery, ( not quite, given they had my 15 grand ), but still. Satisfied with the device and considered myself lucky to have a brand new Moto G4 Plus ( had read reviews about getting used devices ). Was working as expected and left me contented.After a couple of days, the steady stream of issues initiated.I went through much ( Would rather say all ) of the issues that were mentioned in reviews.Initially it went blank while on call. No response. Couldn't tell if the device was powered on. Nothing made the backlight come to life. After a minute or so, rebooted itself. ( Mayb it loves doing so, coz it did so again for 3 times ).Back at home, put it on charge ( Should I say Turbo Charge ? Whatever ). After being fully charged, when unplugged, the touch went haywire. Random selection, as if it had a mind of it's own. Had to press power button for 2 mins to shut it down ( Kill it's excitement ).Another shocker was the heating issue. I was convinced that prolonged use of any device would heat it up. But this little deal breaker ( Worth 15 grand ) was exception. It would heat if I would multitask. Say if on call, a low end game would suffice it to heat above 45 C. Another peculiar thing was as if using camera for about 2 mins or more, it would just piss it off n it would make U handle it, like having a morning toast.Requested a refund. Luckily it was within 10 day replacement / refund policy. Conveniently, Amazon does not provide refund ( Even if they advertise it as such ). They have debugger app to let them verify our claims. On being verified ( The Smartcheck app clocked 52 C ), I was approved replacement but not refund. Being a Prime customer has no exceptions ( Clause under refund policy ).Not happy but had to agree ( Given my money on the line ). Was assured that the replacement would be checked twice before dispatch ( Nervous not get a sealed pack device ). The replacement was not hand in hand but had a pickup. When they received the handset, the replacement was dispatched.Lady luck smiled and got a sealed pack replacement device. Now knowing, what exactly to look for, went ahead with multitasking and, voilà, it started to shoot upwards of 50 C.This is the exciting part. Called up Amazon customer, for refund, through the app. Got connected to a guy, Mr. Akshay ( Smart and Smartass ). Explained him. Initially asked me to get Letter of denial from Motorola. Had to explain him that I am in 10 day window for replacement / refund and there is no point of me going to Service centre for anything. Got him to arrange for a scheduled pickup for next day. All smooth till then. After about an hour, he calls me up stating that he needs to get me through Technical Support team to verify my claims. I obliged. He put me up on hold for 20 mins. I waited. He went through the debugging app ( Smart checker ). He declined my request for a refund and told me even a replacement was not possible. Asked him, on what grounds. He replied and I quote " I AM GETTING A READING OF 52.7 DEGREE CENTIGRADE AND IT DOESN'T QUALIFY AS HEATING ISSUE. IT IS IN NORMAL RANGE ". Disconnected abruptly and the worst part, Mr. Smartass just blocked my account for any calls through app.Contacted Amazon through toll free no and another ( Beauty with no brains ) got to me stating that for motorola devices another department is assigned. Gave me yet another toll free no. Contacted those guys, turned out to be the telephonic manual for the device. He suggested me " FEW TIPS " such as dimming your display, switch off data, wifi, location, auto rotation. If nothing works, reset. Told him, I am aware. Just tell me what qualifies as OVERHEATING, the ans was, anything above 45 C. Told me he couldn't do anything ( Being only a manual ). Again contacted Amazon and got through with Mr. Swapnil. He got a reading of 53.2 C. He was helpful ( Least got a pickup scheduled ). Will now wait and see ( Dats the nly thing left to do, other than suing them )Hope and pray ( For me guys )Hence would conclude, given in price bracket of 15 k, no doubt it's a power packed device but due to it's known issues considering other options ( Redmi Note 3 ) would be wise. And it would be much wiser to go to other e-commerce for the same ( Even flipkart deserves a chance ).Have attached pics for all MY CLAIMS. It's your money, so give a thought.... Final call is yours.
2,262 people found this helpful. Was this review helpful to you?
An honest review about Amazon's customer service for moto products and the policies regarding refund and replacement.
By Soumik D.on Sep 17, 2016 12:00:00 AM
I have two moto phones that have problems and was denied replacement and refund.The agent I spoke to tried to help but Amazon's moto process is so horrible she could not do anything but she did transfer me to the moto team after I repeatedly told her that the moto team is rude and do not help. I told her many times not to transfer to the moto team(I dare you guys to keep your cool with these rude moto buggers in case you need to talk to them regarding replacement and refund issues), but she did it anyways. I wanted to talk to the supervisor but they will not take your call if it is a moto issue and you will inevitably be transferred to this rotten moto team. Even after asking for the supervisor more than 10 times the person refused to take the call and the agent transferred me to the team that "handles" moto issues.Abhishek Rai from moto teamThe moto team guy was extremely rude. He did not let me speak. He actually threatened to disconnect the call if I did not stop talking and let him talk(made me wonder whether he was the customer or I).He was trying to put words into my mouth and clearly said they do not have the policies(no real replacement or refund window) mentioned on the phone's product page and if they do not think there is anything wrong with the phone, they will not replace or refund it. Does not matter what the issue is, they are not replacing if they don't get pesky little error codes on their application, which they will make you install on your device to run certain tests.I am writing this review after buying two moto g4 plus from Amazon. Do not buy this phone from Amazon. The ten days replacement window is a scam. If there is a defect with the phone, which both of my phones had, they will not replace it even if you call them the very same day with the problem. They will waste your time troubleshooting and then tell you that you need to visit the"nearest" moto dealer and get a charge sheet. First few times the moto team people told me to go to Lenovo but the last guy denied those claims and told me that I will have go to a moto dealer. I don't know what to believe. Neither do I know where either of those services centres are near my place. I called them the very same day and they did not do anything to help replace the phone. The moto issues are handled by this team who have God like powers. They don't care about the phone's issues. They are rude and they disconnected my call while I was trying to tell him that I wanted a replacement or a refund as the product was faultyThat guy threatened to disconnect the call at least 5 times before he went ahead and tried to end the call proactively.They have horrible service and you will never get a replacement if "they" cannot find out what the issue is by troubleshooting from "their" end. Basically if they think it is not a problem or an issue they will not replace it. You will have to drag yourself to a moto dealer and get a charge sheet. They do not have it on the cellphone's page so you won't know these policies till you buy the phone and face issues.Dare I repeat that these moto team people can disconnect the call if you get frustrated. You need not even use any filthy words. They can proactively disconnect the call if they think you are not "cooperating".They do not have supervisors or higher management and so they have this weird god complex. You cannot complain about them anywhere and they do not have any higher authority.That is just brilliant.Other than Amazon's god awful service, the phone is pretty good. Despite my phone having an issue with the proximity sensor, the performance is good. Gets heated up while on turbo charge but it charges really fast. The phone had lag and heat(while gaming and other general usage) issues but the moto team's app does not recognise them as defects or errors. No refund or replacement without a charge sheet from moto/Lenovo(not sure which one as different moto agents gave me different information) authorised dealer. Even if you got the phone delivered the previous evening, you still need to go on a moto dealer hunt in your city for a charge sheet coz Amazon ain't replacing.The other phone I bought from another account has an auto switch off issue but Amazon did not think it was a real issue as their app did not report anything wrong with the device. The phone gets switched off after lying idle for around an hour or maybe two. This happened thrice on the very day the phone arrived. Called and informed hoping for a replacement. Ain't gonna happen is what they said. Also they do not entertain if you don't like the color.I paid 30k for two phones, both with defects, and was denied replacement or refund. And I called on the very same day of delivery for one and the next day for the other to report the issues and claim a replacement or a refund. They will not replace or refund if they don't think there is anything wrong with the phone. If you don't like the color, you can just crawl up in a corner and eat up your feelings. Your bad. Ain't nobody replacin no nothin.Amazon is horrible. Their service is worse than anything I have ever experienced.Never buying anything from Amazon again.15k is a lot of money(for most and I spent 30k for two defective phones). Think before you choose Amazon. They are not replacing the phone or refunding if "they" don't think anything is wrong with it.They did not even send me a survey link as I wanted to complain about the process.
3,381 people found this helpful. Was this review helpful to you?
Is it woth it?
By ZUBIN SACHDEVAon Sep 7, 2016 12:00:00 AM
Okay, I've been using this phone for the past 2 months and I must say, it is AMAZING!Now, first things first, if anyone is interested in buying the phone, please don't let the product rating at amazon misguide you. I went through most of the reviews and found one issue in common: HEATING problem! Well, the phone supports Turbo Charge for christ sake, it's supposed to get hot people! Duh!Let me divide the review into pros and cons.Pros:1. Battery life: My phone is using wifi 90% of the times and I'm a big media consumer (YouTube, Music, Movies, etc.), still once fully charged it is good to go for a day with around 15% battery remaining.2. Camera: Man! The camera on this phone is a beast. Both indoor and outdoor performance are at par with other handsets in the price range and also better than many phones that cost a lot more than it. The front camera is pretty good and supports flash, too. The professional mode is my fav feature, though.3. Quick charging: It takes roughly around 1 hour 45 minutes for the phone to charge completely. Quick charging is supported till 75% and is very very fast.4. RAM Management: It is pretty decent and ensures that you don't face any lag whatsoever.5. SOUND: I won't say the speakers are the best that I've come across, but considering the price range they are pretty decent and gets the job done.6. CALL QUALITY: The phone uses the speaker as the earpiece and thereby the call quality is crystal clear on this device. One of the best that I've come across till date.7. Stock Android Experience: The android experience on the device is phenomenal with no bloatware whatsoever. Also, Moto has promised an upgrade to Android N and O for the device. :)Cons:Disclaimer: It is only if you're a heavy camera user with each usage session ranging over 20 minutes (continuous use over 20 minutes) that you should worry about the cons written below.1. The device gets hot if the camera is used over 20 minutes continuously.2. There have been reports of heating with extended gaming sessions but I didn't face any such problem and was able to play without any issues for over 30 minutes continuously (Moto rolled out an upgrade that resolved the issue, I guess).Final verdict:If you're a light user looking for a phone to cater to your needs of high media consumption, awesome quality camera, good battery life and a premium-looking build, go for it blindly. :)Hope this helps, thank you.PS: As promised it is set to receive the Android N update later this quarter. It's going to be the first phone in the Moto line up to receive the update.
6,817 people found this helpful. Was this review helpful to you?
Long time Moto G user advises NOT TO BUY - Phone unusable in 5 months
By SSSon Feb 9, 2017 12:00:00 AM
Having used the Moto G Series continuously since it was launched this is the last moto phone I will buyAfter 5 months of use as someone who works at a desk and only puts his phone in his trouser pocket, the camera lens cover glass has been scratched beyond use.Motorola does not provide nor advises that users use a scratch guard for the camera lens cover glass.In 5 months lens is unable to focus to scan a QR CODE.Same issue facing a second Moto G4 Plus that I purchased for my partner.Cost of repairing the glass is approximately Rs.3000/- .
6 people found this helpful. Was this review helpful to you?
Dont buy and Dont trust
By Amazon Customeron Sep 6, 2016 12:00:00 AM
i have buyed in 22 august 2016 and my mobile blosted while i put charging on 27th-oct-2016
865 people found this helpful. Was this review helpful to you?
Moto G4 Plus price in India summary
We have aggregated Moto G4 Plus price and coupon offers available across all online stores in India.
Moto G4 Plus lowest price in India as on Wed, 29 Mar 2017 is Rs. 11499.0 offered by Amazon.
We also have coupons from 1 stores for this product.
Most online stores provide delivery in all major cities in India including Mumbai, Bangalore, Delhi, Hyderabad, Pune and Chennai.
People looking for Moto G4 Plus may also be interested in:
Moto G4 Plus price in India is
Rs.

11499 on 30th Mar 2017

Disclaimer:

Scandid is a search engine that crawls every online store in India to find every product that is sold online. We currently show products in Books, Computers, Electronics, Appliances and Personal Care categories. Although we make every effort to present accurate product and store information, including prices and stock availability, Scandid cannot guarantee and is not responsible for inaccuracies or omissions. Please give us

feedback

on these results!