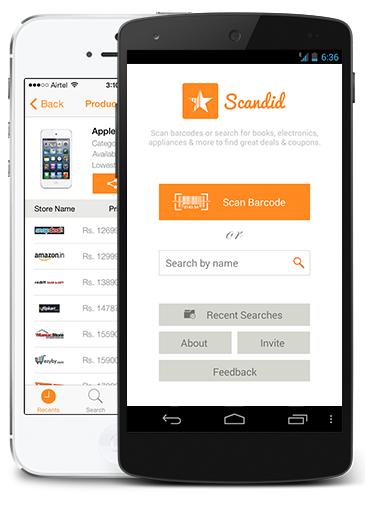 Your shopping companion, on the go!
Scandid is a fast and convenient barcode scanning based price comparison app for India.
Just scan the barcode present on the product box or search by product name and instantly see the prices and coupons from all online stores. Scandid searches millions of products across hundreds of online stores in India to help you get the best deal!

Scan barcodes
Barcode scanning has never been so useful and fun! Compare prices of a product across hundreds of online retailers simply by scanning the product barcode. The app also shows you all coupons and offers available for that product to make sure you get the best deal.
Search products
Don't find the barcode? No problem. Just search the product by its name and Scandid will search millions of products and find the best prices and coupons.
Scandid shows you all variations when you search for a product by its name. This way you can find the best deal on exactly the product you are looking for!

Find best prices and coupons
Compare prices across all major online stores in one go! It even shows you all the coupons, credit / debit card and netbanking offers. With such detailed price information, you will never miss a deal again!
Negotiate like a pro!
Shopping at all mall or a local retailer? Make sure you lookup the product you are buying on Scandid. Show the online prices to the salesman and ask for price match! You will be surprised how well this negotiation trick can work.
Share with your friends, get their opinion
Like to get friends' suggestions before buying? Scandid makes it a breeze to share a link to the product page from within the app. When your friends visit the link that you share, they see the exact same information that you see in the app without even needing to download the app.
Delicious, surprise coupons
From time to time we show hot deals and coupons from local food chains like Dominos, Pizza Hut, CCD, etc just for using the app. Getting good taste is as important as getting a good deal on your shopping!

Scandid Reviews
Scandid in the news