Last updated on: 25th May 2018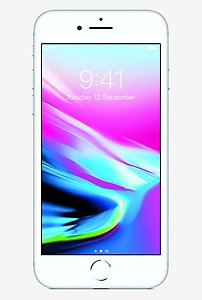 Apple iPhone 8 256GB Price in India
Apple iPhone 8 256GB price in India from
6 stores in India

from

Rs.

67726 -

Rs.

91900
Store Name
Additional Info
Price in India

Show 6 more offers

Apple has launched the iPhone 8 with all new glass de.. Apple has launched the iPhone 8 with all new glass design. iPhone this time has used the most durable glass, front and back to achieve a superior look and elegance. The iPhone 8 has been engineered t... + more

11.93 centimeters (4.7-inch) capacitive touchscreen w.. 11.93 centimeters (4.7-inch) capacitive touchscreen with 1334 x 750 pixels resolution iOS v11 operating system with 1.2GHz Apple A11 Bionic hexa core processor, 2GB RAM, 256GB internal memory and single SIM 1821mAH lithium-ion battery 1 year manufacturer warranty for device and in-box accessories including batteries from the date of purchase + more

Show 2 more offers

Show 1 more offer
Apple iPhone 8 256GB Specifications
Front Camera Resolution (Mp)
7
Video Recording
3840 ? 2160
Music Playback Format
AAC-LC/ HE-AAC/ HE-AAC v2/ Protected AAC/ MP3/ Linear PCM/ Apple Lossless/ FLAC/ Dolby Digital (AC-3)/ Dolby Digital Plus (E-AC-3)/ and Audible (formats 2/ 3/ 4/ Audible Enhanced Audio/ AAX and AAX+)
Video Playback Format
HEVC/ H.264/ MPEG-4 Part 2 and Motion JPEG
Wi-fi
802.11ac Wi-Fi with MIMO
2G Specifications
GSM/EDGE (850/ 900/ 1800/ 1900 MHz)
3G Specifications
UMTS/HSPA+/DC-HSDPA (850/ 900/ 1700/2100/ 1900/ 2100 MHz)
4G Specifications
FDD-LTE (Bands 1/ 2/ 3/ 4/ 5/ 7/ 8/ 12/ 13/ 17/ 18/ 19/ 20/ 25/ 26/ 28/ 29/ 30/ 66)/ TD-LTE (Bands 34/ 38/ 39/ 40/ 41)
Bluetooth Specifications
Bluetooth 5.0
Navigation Technology
Assisted GPS/ GLONASS/ Galileo and QZSS
Pre-installed Browser
Safari
Usb Version
USB (Lightning)
Internal Memory Range
Above 32 GB
Text / Instant Messaging
Yes
Talktime (4G) Range
10 to 15
Water Resistant
Rated IP67 under IEC standard 60529
Operating System Range
iOS
Processor Name
A11 Bionic
Screen Size Range
4.5 - 5.0
Screen Color Support
326 ppi
Performance Features
A11 Bionic Chip with 64-bit Architecture, Neural Engine, Embedded M11 Motion Coprocessor
Sensors
Touch ID fingerprint sensor, Barometer, Three-axis gyro, Accelerometer, Proximity sensor, Ambient light sensor
Warranty Description
1 Year
Sound Enhancements
Built-in Stereo Speaker,Built-in Microphone
Digital Zoom
Digital Zoom Upto 5x
Frame Rate
4K Video Recording At 24 fps,30 fps,or 60 fps,1080P HD Video Recording at 30 fps or 60 fps,720P HD Video Recording At 30 fps,Slo-Mo Video Support for 1080P at 120 fps or 240 fps fps
Supported Networks
4G LTE,UMTS,GSM,WCDMA
Important Apps
Camera,Photos,Health,Messages,Phone,FaceTime,Mail,Music,Wallet,Safari,Maps,Siri,Calendar,iTunes Store,App Store,Notes,News,Contacts,iBooks,Home,Weather,Reminders,Clock,TV,Stocks,Calculator,Voice Memos,Compass,Podcasts,Watch,Tips,iCloud Drive,Find My iPhone,Find My Friends,Settings,Files
Audio Formats
AAC-LC,HE-AAC,HE-AAC v2,Protected AAC,MP3,Linear PCM,Apple Lossless,FLAC,Dolby Digital (AC-3),Dolby Digital Plus (E-AC-3),Audible (Formats 2,3,4,Audible Enhanced Audio,AAX,and AAX+)
Product Code
MOBAPPLE-IPHONEICON224691B145865D
Return Policy
7 Days Return/Replacement Policy - Product return or replacement is accepted by seller within 7 days of product delivery only in case a wrong or damaged product has been delivered. Cancellation allowed.
Colors
With a wide color gamut and the best color accuracy in the industry, everything on the screen looks more brilliant and vibrant.
Apple iPhone 8 256GB Coupons
There are 3 coupons available for this product: 2 for paytmmall, 1 for ebay
The best coupon available for this product is: Special Offer on Apple iPhone 8 256 GB (Gold) from Paytmmall and it expires on: Sat, 26 May 2018
The best coupon from Paytmmall will save you Rs. 6000.0
Paytmmall


See all paytmmall coupons
Ebay

See all ebay coupons
Biggest mistake
By Flipkart Customeron
Please do not buy this product Especially from flipkart A defected product Scratches on screen And when u call them they say apple takes care of it not us Its a bloody 64000/- rs device and they think they can get away with this. I want refund.
Nice product from Apple as always
By Flipkart Customeron
Nice product from Apple as always but not much of a difference. Make sense if someone is upgrading his/her phone from iPhone 6 or below versions Overall its a good phon!!!
Must buy!
By Aditya Sharmaon
Working in an E-comm company, i know the value of delivery timing. Got the product just 1 hour after the product release. Excellent product as I am upgrading it from 5s
Used item
By Tasleem Rajaon
It is a used phone i have proof for this
Just wow!
By Kaustav Ghoshon
I previously had iPhone 6S and am pretty happy with the new iPhone. I am listing the pros and cons I found for others to consider before purchase: Pros: 1) Camera quality - much more sharp, better quality and specially low light photography has improved. Also OIS (welcome feature for us coming from 6S) which was included from 7 - helps take better video and zoom photos 2) Internal Phone Speaker sound quality much improved over 6S 3) Processing speed - noticeably fast compared to 6S in day to day activities and for games its better than iPhone 7 4) Better AR support with new Bionic chip 5) New Gold color (some of you folks might not find it to your taste but I like it!!) 6) Waterproof and Dustproof (not supported in 6S) 7) Better Bluetooth (5.0 supported from 4.2 in 6S) which has better range and higher speed - Apple watch and bluetooth speakers works better 8) Capable of Wireless Charging (Qi Standard) and Fast charging (not present in 6S). No problem of simultaneously listening to songs and charging that iPhone 7 users complain due to removal of headphone jack 9) All other things you love about 6S are mostly intact like Touch ID My most important improvement - Improved Battery life due to better efficiency of processors - you get at least 2 hrs over 6S with similar usage Cons 1) Same design principle as 6S 2) No dual camera still - and no potrait mode support like Plus series 3) Screen size not improved having same Bezels like 6S - unlike newer Samsung Models or iPhone X 4) No fast charging cable or adapter - need to buy separately 5) Wireless charging speed - currently throttled to 5W which is slow- expected to be increased to 7.5W with next IOS update but still half of what some Android phone offers 6) Price - there is no point complaining because Apple charges premium for the experience and brand - so hate it if you want but you have no option but to wait for better deals at online (like I received at Flipkart) 7) All Glass makes it a bit more fragile compared to 6S and 7 Neutral: Headphone Jack - really not sure if I hate it or love it - frankly not making much of a difference for me due to improved battery life from 6S and the inclusion of lightning supported headphone jack with the box. Also if you want you can invest in Wireless headsets. True Tone - Not making much difference to me - you had the option to turn on 'night shift' anyways in 6S Wider color gamut support - improved color reproduction but nothing noticeable Between Apple and Android - I personally prefer ios due to transparency in keeping my data safe and not selling them to advertisers and as a principle not monitoring me without my consent. Also I have invested in iPad, Watch and Macbook and things work together seamlessly to provide an enriching experience - so if you own more products from Apple other than iPhone then do not think of switching - you will never get that wholistic experience with Google and Microsoft combined (though individually Google and Microsoft are pretty good in their own respective areas - Phones and PCs). For others take your pick - Apple or Google for Phones and Apple or Microsoft for PCs depending upon your preferences! As far as Flipkart goes for Delivery - simply fantastic work guys - love the professionalism shown in delivery compared to closest competitors. Few things which makes the delivery experience wonderful are listed below: 1) Delivery on time - tracking updates very precise with details - competitors sometimes miss timelines even if you are paid customers 2) Number shared of Wishmaster is reachable unlike some competitors where the phone numbers are either not shared or even if shared they are not reachable or goes unanswered 3) Great packaging - here not much of a difference
Defected phone
By Rohit Kumaron
Got defected iphone and its not even return easily..
I give iPhone 8 a 4
By Toshi Aleyon
iPhone 8 Review?? DESIGN:• The iPhone 8's aluminium rear has been replaced with a glass finish - which feels impressively grippy in hand - its overall finish is the same as that which debuted three years ago. This means it does feel somewhat dated, especially when placed down next to Samsung's Galaxy S8, although those fond of Apple's go-to design unlikely will have any complaints. • ?This dated feel is largely down to the chunky bezels that surround the 4.7in screen, with Apple's rivals - and even Apple itself - making the move towards full-screen, bezel-free devices. This does mean that there's room for Apple's trusty Touch ID sensor underneath the display, though, which has so far worked flawlessly every time.• ?Like the iPhone 7, the iPhone 8 is waterproof too, thanks to the handset's IP67 certification which means, in theory, it should withstand being dunked into water up to 1 metre for 30 minutes. This has rung true for us so far, but we try and avoid getting the handset too wet given its exposed ports on the bottom. • ?The iPhone 8 is a tad heavier than last year's iPhone 7 at 148g, which we found made it feel more robust. It apparently is, according to Apple, which boasts that the glass on the phone's rear is the "most durable glass ever on an iPhone." We haven't managed to drop our iPhone 8 yet, but it feels like it could withstand a tumble or two.• ?Elsewhere on the handset you'll find the Lightning port on the bottom edge is flanked by a speaker and microphone, and there's nothing up top. There's no return for the 3.5mm audio jack, but Apple includes a Lightning to 3.5mm headphone jack adapter in the box.• ?There's also updated stereo speakers, which make the phone around 25 percent louder than the iPhone 7.?? DISPLAY:• The iPhone 8's display is largely identical to the iPhone 7. And the 6S, and, er, the iPhone 6. This means that the 4.7in screen, with its 1,334x750 resolution, does feel somewhat old-fashioned, not to mention small, compared to the likes of the Galaxy S8 and Pixel 2, again, added to by the bezels that surround it. Quality wise, while it pales against its rivals on paper, we've no complaints, and it continues to be among the sharpest and most vibrant on the market.• ?The only real change to the iPhone 8's screen is the addition of Apple's True-Tone technology that first debuted on the 9.7in iPad Pro. This True Tone alters the colour temperature of the display depending on the environment in which you're in, reducing the harsh blue tones typical of an LCD when you're in a dimly lit room.?? PERFORMANCE:• Apple's new A11 Bionic chip sits under the hood of the iPhone 8 and, as expected, it's incredibly fast.• ?Specs-wise, the six-core CPU comprises of two low-performance cores and four high-performance cores, with the regular cores being 25 per cent faster than the previous A10 chip, and the high-performance cores being up to 75 per cent faster than the A10 SoC, according to Apple It also comes paired with Apple's first homegrown GPU, which offers 30 per cent more performance than the A10.?? SOFTWARE:• The iPhone 8 ships with iOS 11, naturally, which brings with it improvements to Siri, reworked lock screen notifications, a new-look Control Centre and Apple's redesigned App Store.?? CAMERA:• On paper, the main camera on the iPhone 8 is no different to that found on the iPhone 7, with Apple retaining the same 12MP sensor with built-in f/1.8 aperture and optical image stabilisation (OIS).• ?The biggest changes come on the video side of things with 4K recording now available at 60fps and slo-mo video now 1080p at 240fps - both of which are double the iPhone 7 and the former is a first for any smartphone.• ?I tried it out in a variety of different lighting conditions, indoor and out, and were impressed with the camera's capabilities - in particular when low lighting is involved, something our iPhone 8 struggled to cope with. This is aided by the always-on HDR, which increases saturation while retaining more natural and realistic colours than images shot on the Note 8, for example. • ?The biggest changes are seen on the video side, with 4K recording now available at 60fps and slo-mo video now 1080p at 240fps - double what the iPhone 7 has on offer.• ?On the front of the phone you'll find a 7MP camera f/2.2 aperture, Retina Flash and 1080p video recording, and while this isn't as great in low-light as the rear-facing snapper, it's perfectly good enough for the occasional selfie and Snapchatting, or whatever it is you kids get up to. Unfortunately, however, you don't get Apple's new Portrait Mode on the iPhone 8, nor the new Portrait Lighting feature that the iPhone 8 Plus has.?? BATTERY LIFE:• According to Apple, the battery inside the iPhone 8 will last around two hours longer than the iPhone 7's, despite weighing in slightly smaller at 1,821mAh.This has proved accurate during my time with the iPhone 8 so far. It usually gets me to the end of the day - just, whereas I usually had to charge my iPhone 8 most evenings.• ?It's much less of a hassle to charge the iPhone 8 too, as it - along with the iPhone X - is Apple's first smartphone to support wireless charging. What's more, whereas Apple usually requires expensive propriety accessories, the iPhone 8 supports the Qi wireless charging standard, which means it'll work with most third-party charges on the market. ?? VERDICT:• In short the iPhone 8 is an excellent phone and there are some great new editions to get excited about, such as the inclusion of wireless charging for the first time and Apple's new A11 Bionic CPU, which is benchmarks are anything to go by, is the fastest mobile CPU on the market right now. • ?Beyond that, though, the iPhone 8 is an incremental update over last year's iPhone 7, and its large bezels and three-year-old design mean it does feel somewhat dated compared to the likes of the Galaxy S8 and Pixel XL 2, despite carrying a similarly-expensive price-tag. Thank You PEACE..( IF YOU FIND THIS REVIEW HELPFUL PLEASE HIT THE 'HELPFUL YES VOTE')
Is it Worth Purchasing ? Detailed Review with Battery Stats.
By Sameer Patilon
NOTE :@ This is available at many online and offline stores, so check the prices before purchasing.@ I am Not mentioning Technical Specs, this Review is Purely from Normal User's Point Of View.@ Battery Backup of this phone is one of the best among high ends smartphones ( check the stats below for details )I used this phone for couple of weeks and following are the observations,? Build quality is Top Notch. Back panel looks similar to S8.* This acts like Finger print magnet as well.? Water Resistant atlast with certification ( IP67 ).* Though previous versions were resistant to water, but this is Certified.? Processor is Beast.* Though is has lesser cores or is numerically inferior on paper, its indeed Fastest in the market.* Multitasking is piece of cake.? Cameras are Best in class.* Rear camera has awesome output specially simultaneous 4K video and 8MP image recording feature.* Slow motion videos are outstanding.* Front camera too is good.? Battery Performance -->==================# Charges from 0 to 100% in approx. 2 hrs with stock charger.# With Fast charger it clocks 0-50% in just 30 mins.Usage Mode ---> Battery Performance(Avg.)===========================================@ Mobile Data(3g/4g) Used Continously ---> 6-7 Hrs.@ Normal Calling Only + Standby ---> 25 Hrs.@ Normal Calling + Music Playback( Continuous ) ---> 9-12 Hrs.@ Internet Usage on WiFi Only( No Calling ) ---> 8-9 Hrs.@ Gaming ( Wifi) ---> 5-7 Hrs.@ Gaming ( without WiFi ) ---> 5-8 Hrs.@ Video Playback ---> 10-12 Hrs.CONS :----------? First and most important is its Huge Price tag.* Its a great phone, but certainly not worth the price.? Design is Fragile and prone to Damage, the movement it falls on ground.? No Dual sim yet.? NFC of the phone has Limited applications in practical world.VERDICT --->-------------?? Should you Upgrade it from iPhone 7 or 6s ? ?? Is it Worth Purchasing ? ??============================================================According to my usage I Do Not find appreciable reason to Invest this huge sum and Upgrade to it, just for slightly better performance.Indeed it is Symbolic piece of machine, but certainly not worth Upgrading to.If you want your first apple device and have ample to spare, then certainly go for it.If you want Luxurious smart phone with Definite Value for money, then Better go for Samsung S8.P.S. - I am huge Apple fan, having almost all iphones in possession, still I do not find this worth the tag.That's it, I hope this should clear your doubts, if not then drop them down in comment section & I will try to answer 'em.Thank You for reading this Review.
Beast
By Sanju Choudharyon
I have got this in 47990 .... Loved this .... Unbelievable deal and a great phone....
Amazing phone the glass back is looks and feels great
By ANIL KUMAR SINGHon
Amazing phone the glass back is looks and feels great.Not much different from the 7 though feels like a iPhone 7 s
Apple iPhone 8 256GB price in India summary
We have aggregated Apple iPhone 8 256GB price and coupon offers available across all online stores in India.
Apple iPhone 8 256GB lowest price in India as on Fri, 25 May 2018 is Rs. 67726.0 offered by Paytmmall.
We also have coupons from 2 stores for this product.
Most online stores provide delivery in all major cities in India including Mumbai, Bangalore, Delhi, Hyderabad, Pune and Chennai.
People looking for Apple iPhone 8 256GB may also be interested in:
Apple iPhone 8 256GB price in India is
Rs.

67726 on 25th May 2018

Disclaimer:

Scandid is a search engine that crawls every online store in India to find every product that is sold online. We currently show products in Books, Computers, Electronics, Appliances and Personal Care categories. Although we make every effort to present accurate product and store information, including prices and stock availability, Scandid cannot guarantee and is not responsible for inaccuracies or omissions. Please give us

feedback

on these results!