Last updated on: 19th Apr 2018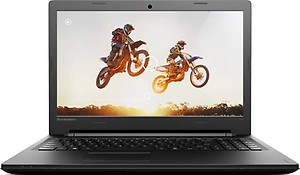 Lenovo APU Dual Core A9 Price in India
Lenovo APU Dual Core A9 price in India from
2 stores in India

from

Rs.

27990 -

Rs.

29999
Store Name
Additional Info
Price in India

Show 3 more offers

Free:

4 offers

4 offers

+ more
Lenovo APU Dual Core A9 Specifications
Sales Package
Laptop,Battery,Power Adaptor,User Guide,Warranty Documents
Suitable For
Processing & Multitasking
Battery Backup
Upto 4 hours
Processor Name
APU Dual Core A9
Processor Generation
7th Gen
Processor Variant
A9-9400
Clock Speed
2.4 GHz with Turbo Boost Upto 3.2 GHz
Graphic Processor
AMD Radeon Integrated
Usb Port
1 x USB 3.0,1 x USB 2.0
Multi Card Slot
4-in-1 Card Reader (SD,SDHC,SDXC,MMC)
Screen Resolution
1366 x 768 pixel
Screen Type
HD LED Backlit Display
Internal Mic
Built-in Microphone
Wireless Lan
IEEE 802.11ac
Dimensions
377 x 264 x 229 mm
Web Camera
0.3 Megapixel Webcam
Keyboard
Standard Keyboard
Additional Features
Li-ion Battery
Screen_size_filter
15.1 - 16
Hdd_capacity_filter
1TB & More
Warranty Summary
1 Year manufacturing India<br>To Register your laptop & activate warranty please visit.<br>www.lenovoservices.net
Graphics_memory
2 GB DDR3
Screen_size
15.6" (39.62 cm)
Graphics_memory_filter
2 to 4 GB
Product Code
LAPLENOVO-IDEAPUNIV22231F8E7F454
Dedicated Graphics Memory Capacity(graphic Memory)
2 GB
Return Policy
This product is non-refundable. Seller will replace the product within 10 days from the date of delivery only if, i.) Damaged product is delivered or ii.) Wrong product is delivered.
Ethernet
10/100/1000 Mbps
Best Buy
By Ankit Dhananjay Khankeon
Hi people, Firstly i would like to start about flipkart delivery : 5stars - It was delivered on time. Packaging : 3 stars - the packing for the laptop was not upto the mark. There were no air cushions inside. There was just the card board covering the laptop. Now coming to laptop Specs - 5 star : Sound. Performance. Display. Battery. Looks. MS Office. The only issue i had was with the trackpad. Its not that good enough. Overall, it was the best buy at this price and i'm loving it.
Great product
By HEMANTA KUMAR SINGHA SARDARon
Product is more than expected in that price. Delivery time is also good.
Pretty good
By Trivesh Kumaron
All over good
Value-for-money
By Naresh Madhuron
Does very decently for a 30k laptop Pros. 1. Camera is pretty cool. 2. Keyboard is very soft and responsive. 3. Touchpad comes with DELL software, for better personalization 4. Battery life stands up to the described levels. Cons. 1. Volume is comparatively lesser. Around 80% of other laps. 2. Just one led light, at the front, for charging indication. So hard to find if laptop is on or off, when lid closed. 3. The recent update consists of a suspected memory leakage in the audiodg.exe file, which leads to the laptop always being in overclock while playing audio/video. But cons aren't so unexpected from a laptop in such a price range offering such specs. Also, software bute It's a good buy if : You're looking for a 6GB RAM with decent hardware config for low end games. Don't buy if : You're relying on the 6GB for your games, doesn't perform like one. Bottomline, decent for the price I bought, 30k. Did audio/image editing, not flash-speed, but reasonable delay.
mass
By DANDAPANI Son
It has Windows 10 operating system
Excellent Product
By Sachin Koundalon
Ordered it during Big 10 Shopping Days and after using it after couple of days, I thought to review it for New Buyers Following are my Observations : 1. Awesome Performance AMD A9 7th Gen Performs flawlessly with Windows 10 Pro. 2. Secondly I want to clear its DDR4 Single Channel 8 GB RAM (Which does job very well.) Single channel means only one RAM Slot and You can not Expand it. But it is double faster than 8GB DDR3 RAM 3. Processor Is much faster than intel i3 6th Gen and slightly Weaker than i5 6th Gen 3. Build Quality is Good as far as price is concerned, I got it for Just 22490. 4. Device has 500MB Integrated Radeon R5 Graphics And Dedicated Radeon M430 2GB GPU. Which can handle most of Games in Medium Settings ( I played Farcry 3 in high settings with no lag) 5. Battery Backup is around 3-3.5 Hr, those who are complaining battery backup issue, Please try to manage Apps in radeon settings. 6. Yes charger cable is around 1.5 M long and thin like mobile charger cable. ALL IN ALL GOOD PICK WITH TWO THUMBS UP KEEPING IN MIND ITS PRICE..
Very Good
By Avik Bhattacharyaon
Given the price ,it's more than enough. It actually ran fry cry 4 in medium settings at playable fps. Normal apps are running fine as well. The plastics are obviously cheap given the price but it's manageable. The drivers are easily available. The battery life could do with some improvement. Speakers are horrendously low output unit. Over all not bad , but there are querks one has to live with.
Not recommended at all
By RK Ahiron
FIRST.... NEVER BUY THIS LENOVO IDEALPAD 110 A9*7TH GENERATION its has just three cell in battery, so it's performed after full charging for 50 - 55 minutes. no more than 1 hour as lenovo said me. now... in description its showing 5 hours battery backup its totally damn wrong, it's just give you backup of one hour. other was little hanging system. supported just w10 (64bit) not allowed to install other os. if you have received faulty product neither lenovo solved your problem nor flipkart. MAIN thing is that if your product faulty its not be replaced, just change the faulty part or may be charged pay to you. i spent 15 days to solve my products problem with both lenovo and flipkart but no results. still i have my damage product and no response. Flipkart while i request for return my lenovo laptop flipkart said it's depend on lenovo technical team. after what they say you have to proceed more for your order. Nothing to say more about this... just never ever buy anything of lenovo brand specially online shopping sites. when you buy a product with 20-25k rupees go in show rooms and purchased from there. its little 2-3k more costly but your product and service support satisfied you. i lost my 26000 money for damaged product.
Good
By Ijaj ahmed Laskaron
Superb
Super!
By Nitin Bhatnagaron
Value for money, nice textured body, good display, good battery backup, gives about 3.5-4 hrs, I use it for working on office applications and browsing, so far has not faced any issue, the only drawback I could see is that the battery is internal and will need to visit Lenovo service center if replacement is required in the future
Excellent
By Yashaswita Panton
Laptop is worth the money.... I mean did not we read the configuration before buying!!!! And one more thing, MOUSE PAD and AMD drivers are available at Lenovo WEBSITE... INSTALL drivers and TouchPad issue resolves by itself....
Powerful Budget Laptop..!!
By Gourab Ghoshon
Given the price, This is a quite good purchase with excellent value for money. Pros..... 1. Good crisp vivid display 2. Excellent performance. (if u do heavy computing, the effect of DDR4 ram and A9 processor would be vivid) 4. Thermal management is very nice (heating is fairly low) 5. Keyboard is of good quality 6. Excellent value for money 7. Good Matt finish around the keyboard and mouse touchpad region. cons... 1. Battery lasts only for two hours with moderate computing and internet access. 2. WebCam is fairly BAD 3. Speaker sound is very low.......... I mean painfully low. 4. The upper part of the flap catches a lot of finger prints 5. Build quality could have been a little better. However at this price, can't really complain. Things to consider before buying.... 1. Comes without an operating system. However, it is only compatible with windows 8 or above. If you try installing win7 it will ask for drivers separately. 2. Lenovo doesn't give any driver CD. Hope this helps...
Good one if you are choosing a cheap laptop!!!
By DEEPAKon
Pros: >good performance >screen viewing angles are gooooood >Feels weight less with heavy configs >thumbs up for battery life Cons: >audio is bad(lesser sound) Over all: 4/5
Awesome
By Flipkart Customeron
nice product
Horrible
By Naresh ballamudion
DEC.15,2017: I placed order to buy lenovo laptop for cash on delivery DEC.19,2017: Received laptop paid cash on delivery. DEC.20,2017: On opening lapto and after switch on I found that screen is damaged DEC.21,2017: Kept an email to flipakrt customer care about replacement of damaged laptop. DEC.26,2017: Received call from flipkart who spoke with me arrogantly about installation of os in the laptop, by which at that I confirmed from local lenovo service persons that installation of os cannot be done because of screen damage and the same I spoke to that flipkart support guy. DEC.26,2017: On the same day I called to flipkart customer care and informed that your flipkart assistance guy is very arrogant in dealing with concerned customer. In the call, flipkart guy told me the issue will get resolved on Dec.28,2017. DEC.30.2017: As per your scheduling, technician visited to my residence 2 days late and gave online service report that the screen is damaged. JAN.01.2018: Received call from flipkart morning that issue will get resolved within 2 days i.e on JAN,02,2017. JAN.02,2018: Received mail from flipkart stating that the issue will resolved by JAN 05 1:30p.m Service Issues. the entire timeline is for replacement for a damaged laptop. The purpose of ordering laptop is to continue my higher studies in university. but instead of practicing exams I'm studying your emails. One of your flipkart technical person even don't know how to talk to a customer. He argued with me in a very rude manner. Nearly 18 days completed from the date of delivery of laptop, but still there is no proper solution from your end. I informed you that display is not functioning and lenovo service person confirmed it was display damage and you people make delay in replacing laptop. Every time you people call me particularly during business hours, it will be hard for me to attend. If I'm unable to attend call, it is basic common sense to forward mail to my registered e-mail id. Without that basic common sense, how flipkart is providing service all these days remains questionable mark. Issue is clearly known to me and lenovo technician, but how come Flipkart is ignorant about my problem. I think there is nothing to solve by phone as there is clear evidence of damage of laptop. I will not endorse your brand to others in my circle. If you people are really committed and dedicated in providing service, do it with passion else, please don't make suffer the end customer with your partial professional tactics. Just for replacing a damaged laptop it is unjustifiable & clearly visible, unforgiven mistake you people are doing.
Lenovo APU Dual Core A9 price in India summary
We have aggregated Lenovo APU Dual Core A9 price and coupon offers available across all online stores in India.
Lenovo APU Dual Core A9 lowest price in India as on Thu, 19 Apr 2018 is Rs. 27990.0 offered by Flipkart.
Most online stores provide delivery in all major cities in India including Mumbai, Bangalore, Delhi, Hyderabad, Pune and Chennai.
People looking for Lenovo APU Dual Core A9 may also be interested in:
Lenovo APU Dual Core A9 price in India is
Rs.

27990 on 20th Apr 2018

Disclaimer:

Scandid is a search engine that crawls every online store in India to find every product that is sold online. We currently show products in Books, Computers, Electronics, Appliances and Personal Care categories. Although we make every effort to present accurate product and store information, including prices and stock availability, Scandid cannot guarantee and is not responsible for inaccuracies or omissions. Please give us

feedback

on these results!