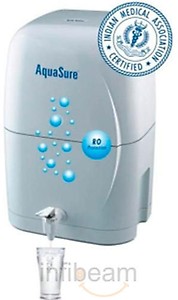 Eureka Forbes AquaSure Nano RO Water Purifier Price in
Product Summary
The water purifier by Eureka Forbes ensures 100% clean and safe drinking water.
The water purifier has a total capacity of 4 L.
Eureka Forbes AquaSure Nano RO Water Purifier features 5 purification stages with reverse osmosis.
The water purifier comes with an in-built voltage stabilizer, micro switch float, manual flush facility and energy saver mode.
It is an affordable water purifier that is handy to set up, operate and maintain.
+ more