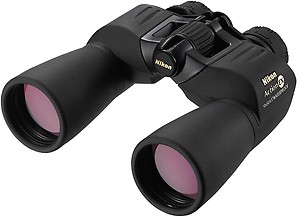 Nikon Action EX 10x50 CF Binocular Price in
Product Summary
Takes you to where the action is and get to see distant images as if they are at arms length greatly showing of the depth and accuracy of the Nikon Action EX 10x50 CF Binocular.
A 10x magnification shows you the extent of accuracy f a Nikon Binocular when in action and the Porro Prism gives you an on the job feel.
A 7 m closest focusing distance takes you up front to where the action is and close as it
Gets an exceptional brightness warrants a close look when on hunting or ou tdoor sports,it will never let you down. Being Fog Proof And Water proof makes the binocular extremely adaptable to underwater and terrains.
+ more