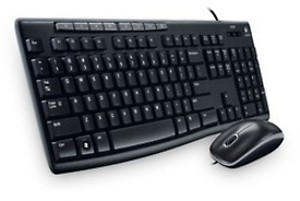 Logitech Media Desktop MK200-USB Price in India
Product Summary
Logitech Media Desktop MK200-USB facilitates instant access to media and internet.

It features an easy to read durable keys and adjustable tilt legs.

This Logitech device features plug-and-play USB connection.

It supports operating system such as Windows Vista, Windows 7, Windows XP, Linux Kernel 2.6 OS or above.

Logitech Media Desktop MK200 is a wired keyboard has 2 buttons with scroll wheel.

This ergonomically designed keyboard features an optical mouse technology.
+ more