Last updated on: 24th Apr 2017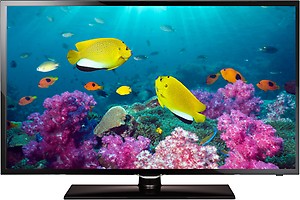 Samsung 22 Inch LED TV 22F5100 Price in India
Samsung 22 Inch LED TV 22F5100 price in India from
10 stores in India

from

Rs.

10425
Store Name
Additional Info
Price in India

55 centimeters LED 1920 x 1080 Input : 2* HDMI, 2*USB.. 55 centimeters LED 1920 x 1080 Input : 2* HDMI, 2*USB Refresh Rate : 100 hertz Supported Audio Format : MP3, ADPCM, WMA, HE-AAC, MPEG, AAC, Supported Video Format: MKV, AVI, ASF, PS, TS, 3GGP, Flash Formats Installation: For requesting installation/wall mounting/demo of this product once delivered, please directly call Samsung support on 1800-3000-8282, 1800-266-8282 and provide product's model name as well as seller's details mentioned on the invoice. They will give you an installation reference number which can be used for any further follow up. In case of any further clarification, please contact Amazon Customer Care Warranty Information : 1 year warranty provided by the manufacturer from date of purchase + more

Show 1 more offer

Discover a new reality in Full HDEnjoy a greater leve.. Discover a new reality in Full HDEnjoy a greater level of home entertainment realism than ever before. Thanks to a resolution twice as high as standard HD TVs, your Samsung Smart TV delivers a breatht... + more

Show 1 more offer

This Samsung TV proves that transferring and sharing .. This Samsung TV proves that transferring and sharing data has never been easier. This TV features a host of connectivity options. It has 2 HDMI ports, 2 USB ports, 1 RF In (Terrestrial / Cable Input)... + more

This Samsung LED TV is a high performing full HD 22 i.. This Samsung LED TV is a high performing full HD 22 inch LED TV that renders lifelike colour with its high resolution 1920 x 1080p screen. HyperReal Engine is a video processing system that reduces d... + more

Samsung 22F5100 LED TV has 22 inches display. Samsung.. Samsung 22F5100 LED TV has 22 inches display. Samsung LED TV with its USB feature that allows you to share content without a computer. Just plug it in from any digital device that supports a USB conne... + more

Free:

Offers - Samsung 22..

Offers - Samsung 22'' (55.88 cm) Joy Series Full Slim LED TV - 22F5100 Emi Offer : Buy this product on easy EMIs,starting at @ More Details>>

+ more
Samsung 22 Inch LED TV 22F5100 Price Trends
Samsung 22 Inch LED TV 22F5100 price at Paytm has fluctuated between Rs. 10425.0 and Rs.13100.0 in the last 3 months
The current price from Paytm is Rs. 10425.0
The lowest online price for this product in the last 3 months was Rs. 10425.0 at Scandid
Samsung 22 Inch LED TV 22F5100 price at Amazon has fluctuated between Rs. 10425.0 and Rs.11379.0 in the last 3 months
The current price from Amazon is Rs. 10425.0
The lowest online price for this product in the last 3 months was Rs. 10425.0 at Scandid
Samsung 22 Inch LED TV 22F5100 price at Ezoneonline has fluctuated between Rs. 12540.0 and Rs.15026.0 in the last 3 months
The current price from Ezoneonline is Rs. 12911.0
The lowest online price for this product in the last 3 months was Rs. 10425.0 at Scandid
Samsung 22 Inch LED TV 22F5100 price at Snapdeal has fluctuated between Rs. 12780.0 and Rs.13446.0 in the last 3 months
The current price from Snapdeal is Rs. 13446.0
The lowest online price for this product in the last 3 months was Rs. 10425.0 at Scandid
Samsung 22 Inch LED TV 22F5100 price at Homeshop18 has fluctuated between Rs. 12300.0 and Rs.15917.0 in the last 3 months
The current price from Homeshop18 is Rs. 15917.0
The lowest online price for this product in the last 3 months was Rs. 10425.0 at Scandid
Samsung 22 Inch LED TV 22F5100 price at Cromaretail has remained constant at Rs. 13900.0 in the last 3 months
The lowest online price for this product in the last 3 months was Rs. 10425.0 at Scandid
The lowest online price for this product in the last 3 months was Rs. 10425.0 at Scandid







The prices in the Price Trend graph do not include coupon savings.
Samsung 22 Inch LED TV 22F5100 Specifications
Installation & Demo Details
We'll facilitate the installation and demo through authorized service engineer at your convenience. Installation TAT will be 2 to 5 business days depending on the location.The service engineer will install your new TV,either on wall mount or on table top. Installation and demo are provided free of cost. The engineer will also help you understand your new TV's features. The wall wount comes within the box. The process generally covers: Wall-mounted or table-top installation,as requested (Wall mounted mode is recommended for better sound experience),Physical check of all ports,including power and USB ports. Accessories also checked,Demonstration of features and settings,Quick run-through on how to operate the TV
Picture Engine
HyperReal Engine
Dynamic Contrast Ratio
Mega Contrast
Wide Color Enhancer (Plus)
Yes
Power Supply
100-240VAC, 50/60Hz
Manual
User Manual Booklet
Miscellaneous
Main UnitStand
Box Contents
TV Unit, Remote, User Manual, Warranty Card, Power Cable
Additional Audio Features
DTS Premium Sound, DTS Studio Sound
Other Connections
RF In (Terrestrial/Cable Input): 1
Width X Depth X Height (Without Stand)
513 x 43 x 321 mm
Approximate Net Weight (Kgs)
Without Stand : Approx 2.6 KgWith Stand : Approx 2.9 Kg
Sales Pacakge
Sales Package Unit, User Manual, Warranty Card, Remote Control
Connectivity
Component Video Input 1 USB 2 Hdmi 2 PC Audio In (Mini Jack) 1 USB Movie Playback Yes Other Connectivity Features RF In (Terrestrial/Cable Input), Composite In (AV), Component In (Y/Pb/Pr), Headphone
Warranty Available
Manufacturer Warranty
Usb Port / Inputs
Yes (2)
Dimensions
513.1 x 321.5 x 43.8 mm
Screen_size_filter
21 - 25
Screen_size
55.88 cm (22)
Installation_details
Once the product is delivered, customer can schedule installation and product demo (if applicable) by calling on the brand customer care toll free number.Toll Free No. : 1800110 400 Standard Installation is provided free of cost.Service Coverage: The Brand service engineer shall install the TV unit, on a wall-mount stand or a table-top stand. Flexi / Swivel type stand shall be chargeable to customer, to be paid to engineer at the time of installation
Included Components
Remote control and User manual
Best Sellers Rank
#73,586 in Electronics (See top 100) #292 in Electronics > Home Theatre, TV & Video > Televisions
Samsung 22 Inch LED TV 22F5100 Coupons
There are 1 coupons available for this product: 1 for ezoneonline
Ezoneonline

See all ezoneonline coupons
Screen looks like a computer LCD monitor pitch dark black
By Avneet Singhon Mar 14, 2016 12:00:00 AM
If you are under 15k budget, you want HD quality screen.. this is it (its Full HD).Screen looks like a computer LCD monitor pitch dark black, very good quality material, feels premium, remote is Samsung standard remote, screen brightness is pretty good, you can control back light very easily also it has eco mode, where you can dim and also switch off screen if you want to listen just to audio (say news, music channel) .. it plays huge files without glitch, tested couple of mkv & mp4 container files having h.264 codec with 1080p resolution with mp4 AAC audio, it works.. have not tested all the file format.. I guess it should work most of them.. I also tested opening up my dslr photos which was 12-14MB file, it plays slideshow with out a glitch.. people who are bothered about the sound, I was happy with the output volume though 3Wx2 it is not that bad for the size. (It has two USB one with 1Amp and another with 0.5Amp) USB to USB copy works fine with Fat32 format, it failed for me to paste the file on NTFS HDD, nevertheless it reads my 1TB NTFS based HDD.I basically used this screen for my PS4, great for playing games with very low latency. I have two of these LED displays, setup as my battlestation. Working via MiniDisplay Port to HDMI convertor. No lags experienced yet. I get an overall good Mac experience through them.
5 people found this helpful. Was this review helpful to you?
Good small TV with awesome picture clarity!
By Chetanon Jun 5, 2016 12:00:00 AM
If you are looking for a small LED TV, then this is it! This Samsung TV is the best one you can get at a 22 inch screen size. This TV has all the features you will need, like 2 USB ports, 2 HDMI ports, Full-HD 1080p resolution and digital audio output. You can use your pen drive to play videos, music and photos on it. The Full HD functionality enables you to watch TV in the best resolution possible in this screen size, making the pictures look vibrant and extremely clear. You will definitely notice the difference between HD and SD content. The TV is designed well, and comes with a good-looking table stand or wall-mounting equipment. You can connect 2 HD devices to it, like your set-top-box and a Chromecast or gaming console.The clarity of the screen is just awesome. The sound quality is also pretty good and you will definitely enjoy the experience of watching TV on this.This TV is definitely THE BEST 22-inch LED TV available in the market. It is best suited for small rooms or small families. However, you will definitely notice the smaller size. If you are going to use it in your living room or any other room for that matter, it would be definitely better to opt for a higher screen size, like 32-inch or 40-inch. You will definitely enjoy the TV viewing experience much more on a bigger screen size. It is better to wait and save money for a bigger size Full HD TV, it will definitely be worth it. However, if you have to buy a 22-inch TV now, then look no further, this is it. As the name says, it is a Joy series TV!
7 people found this helpful. Was this review helpful to you?
Too good to be true..but it is true
By Inquisitor Daveon Oct 13, 2014 12:00:00 AM
this is fantastic 10k for a FullHD LED with 3 USB ports. connected my external HDD of 2 TB full with movies and music videos of various formats and all were played effortlessly by the Samsung 22F5100. The pictures videos color reproduction contrast are perfect, the sound too good for a medium sized room.Thanks to Amazon for a very fast and safe delivery. Hats off to you.
6 people found this helpful. Was this review helpful to you?
More than great at this price range.
By Rajesh sh.on Feb 22, 2016 12:00:00 AM
I bought this led TV around two months back on amazon itself,since then, I am willing to put my review here today coz I wanted to share my personal experience with this product to all customers those who have willing to buy it but couldn't reached to any conclusions yet may be because some issues like would it be safe to buy online? how would be the product?guarantee regarding the item etc etc. But let me assure you people that don't waste ur time in if n buts, Shopping on Amazon especially I am recommending you coz till now I have bought many electronic products on this online e-commerce site and all delivered in well and good condition as packaging is super moreover product will be same n of good quality as per shown on the screen while selecting to place an order, so there is no chance that u would get any shoddy article or something else. Now let me tell you about Samsung 22F5100 led TV :-Pros -1. Picture quality is no doubt crystal clear as per it's awesome resolution,therefore there would be no need to subscribe HD channels at all.(savings)2. Various sound modes suitable as per room corner adjustment and need.(adjustable)3. 2 HDMI ports plus 2 USB ports hence one can share or transfer data from one USB to another and use it as computer desktop.(feature+)4. Lean back,standing,straight viewing angles are given as per ur convenience.5.sleak design is very attractive with great quality of fully HD display.(lookwise)6.extra zooming with screen adjustment (up and down) options without damaging pixels clarity.7.various modes of picture adjustment as per veiwer choice.8. One year samsung manufacture gurantee.so no need to worry about it.9. Dolby digital surround sound quality which makes u feel like superior and decent sound.10.moisture, dust and lightning proof and one thing I have noticed is even after using it continuously for several hours it wouldn't get hot from back. Consume least power units as well.11. I recommend it for room size 12*10.Cons:- as every good has bad side as well and obviously it has too but very less and manageable, only one that I have personally noticed till now:-1. Sound a bit less mainly inbuilt woofers. ButSound quality is very original n Dolby.Rest in the prise range of 12000 this product will give u complete satisfaction even a bit more than other LEDtvs in the same price range.Installation is very simple even I have installed it by myself only if facing any problems then one can call Samsung service station nearby respective areas. *Complete satisfaction* Rajesh shadaik
14 people found this helpful. Was this review helpful to you?
Value for money
By Umeshon Oct 8, 2014 12:00:00 AM
I'm very happy with the purchaseonly if it had the hassle free base mount like those in DeLL monitors , I would have given it a 5 starbut over all great product you can use it as a monitor as well as a TV
6 people found this helpful. Was this review helpful to you?
Samsung 22 Inch LED TV 22F5100 price in India summary
We have aggregated Samsung 22 Inch LED TV 22F5100 price and coupon offers available across all online stores in India.
Samsung 22 Inch LED TV 22F5100 lowest price in India as on Mon, 24 Apr 2017 is Rs. 10425.0 offered by Paytm.
We also have coupons from 1 stores for this product.
Most online stores provide delivery in all major cities in India including Mumbai, Bangalore, Delhi, Hyderabad, Pune and Chennai.
People looking for Samsung 22 Inch LED TV 22F5100 may also be interested in:
Samsung 22 Inch LED TV 22F5100 price in India is
Rs.

10425 on 25th Apr 2017

Disclaimer:

Scandid is a search engine that crawls every online store in India to find every product that is sold online. We currently show products in Books, Computers, Electronics, Appliances and Personal Care categories. Although we make every effort to present accurate product and store information, including prices and stock availability, Scandid cannot guarantee and is not responsible for inaccuracies or omissions. Please give us

feedback

on these results!