Last updated on: 19th Jan 2017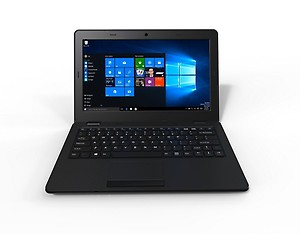 Micromax Canvas Lapbook L1160 Price in India
Micromax Canvas Lapbook L1160 price in India from
2 stores in India

from

Rs.

8415 -

Rs.

11000
| Store Name | Additional Info | Price in India | |
| --- | --- | --- | --- |
| | Upto 1.83Ghz Intel Quad Core Processor 2GB DDR3 RAM 3.. Upto 1.83Ghz Intel Quad Core Processor 2GB DDR3 RAM 32GB eMMC Flash drive 11.6-inch screen, Integrated graphics Windows 10 operating system Sleek, portable and light weight design + more | | |
| | | | |
Micromax Canvas Lapbook L1160 Price Trends
Micromax Canvas Lapbook L1160 price at Amazon has fluctuated between Rs. 8790.0 and Rs.10499.0 in the last 3 months
The current price from Amazon is Rs. 9350.0
The lowest online price for this product in the last 3 months was Rs. 8790.0 at Scandid
Micromax Canvas Lapbook L1160 price at Ebay has fluctuated between Rs. 10499.0 and Rs.11999.0 in the last 3 months
The current price from Ebay is Rs. 11000.0
The lowest online price for this product in the last 3 months was Rs. 8790.0 at Scandid
The lowest online price for this product in the last 3 months was Rs. 8790.0 at Scandid



The prices in the Price Trend graph do not include coupon savings.
Micromax Canvas Lapbook L1160 Specifications
Micromax Canvas Lapbook L1160 Coupons
There are 3 coupons available for this product: 2 for amazon, 1 for ebay
The best coupon available for this product is: 10% additional cahback SBI Debit card | Great Indian Sale | STARTS TONIGHT from Amazon and it expires on: Sun, 22 Jan 2017
The best coupon from Amazon will save you Rs. 935.0
Amazon


See all amazon coupons
Ebay
See all ebay coupons
decently amazing product
By Suman Dharmanaon Jun 14, 2016 12:00:00 AM
Hi everyone. I am posting a detailed review for people who are trying to get laptop in economical range.i am a level 3 user in computers. i generally use workstations and servers. to give a try i tried this for basic purpose.surprisingly this is amazing. performance is good. Windows 10 is good . quite responsive for normal applications even. i am using office and even photoshop 7 hazzlefreely in this. but not tried any games as we should not on this configuration. look and quality of lapbook is reasonably good. wifi and bluetooth are good. battery back up is good. i got a silver one and it looks good.cons. for this price it is not that good to expect more.conclusion.. for a person who need laptop for purely education purpose or job purpose this is an awesome product and value for money. if you want recreation and gaming this is not a choice for you.
138 people found this helpful. Was this review helpful to you?
Suggested.
By Amazon Customeron Sep 30, 2016 12:00:00 AM
It is what it promises. It is small but powerful and don't believe into "NOT A BIG BRAND" like typical comments.I am using it for past 5 months now and have done almost all that is possible with this tiny power house. No problems faces so far. Extremely happy and got value for my money.
24 people found this helpful. Was this review helpful to you?
Defective Laptop - Scratches on the Laptop.... Worst!!!!
By Shubha KVon Aug 28, 2016 12:00:00 AM
Amazon product delivery was good .. Being a regular customer of Amazon .. Today I am very disappointed... There are scratches on the laptop screen which can be seen very easily ... No need for magnifying glass... And the processor is very slow..and some of the installed program does not Open ... And i cannot re-install the program which is unable to start also... Already it has restarted twice.. first time I opened the laptop and started using. I have placed for replacement...they are unable to refund. Please avoid Micromax Laptop.. Though they are cheap.. quality is bad.- Update -Laptop was replaced Second time... and again there are scratches on the laptop.... really worst service!!Now onwards i will never ever buy electronics on amazon... i m fed up!!!
105 people found this helpful. Was this review helpful to you?
Very good basic laptop for travelers etc.
By Amazon Customeron May 23, 2016 12:00:00 AM
Hi,So I have received this laptop (netbook) just few hours ago, so these are my just first thoughts.Build quality - overall it`s good, you can feel its plastic body, you can even hear it from time to time, but guys, this is not the thinkpad. This is super cheap laptop for travelers, students etc. This shouldn`t be you major laptop. It`s very light (1kg), and very thin (+- 2cm). The laptop does not have any FAN, so dont expect any sounds from this machine. The whole machine is black plastic, just the top display cover is silver with the logo of micromax.Hardware: display - IT IS NOT AN IPS screen as it`s written in the description (please amazon fix the description), so do not expect super viewing angles! It`s just an average TN panel, the resolution is quite good for this 11.6 inches LCD (1366*768). What I really like is the minimum brightnes - very soft for reading at the night. On the other hand the maximum brightnes could be higher, but for working inside it`s enough. ooo, I`ve almost forgotten this - the display has matte finish (it`s not the glossy one). You have to expect warmer color reproduction, so most of the the white color is a bit yellowish (compared to my workbook from Dell). Also there is no touchscreen, so you can not control this laptop as a tablet!CPU+RAM+Drive: So this is the basic 4-core Intel Atom CPU without active cooling (one more time, no more sounds from the fan) packed together with 2GB RAM and 32GB flash drive (the eMMC 5.0, the same that is used in cell phones). Even under heavy load (4k video streaming) this CPU doesnt boil any eggs (I was really really suprised). This HW can even handle the 4k video on youtube, but in case you want the 4k smooth, you have to watch it through the Microsoft edge (firefox can play smooth youtube only upto 1080p). I have also tried the mkv files and this HW has no problem to handle multimedia.In terms of the drive, you have only 32GB flash drive (made by Samsung in my case), after the first setup you will have 20GB free space, you can buy micro SD card for really small price now, so I would suggest just to add to the basket the 64GB micro SD with this laptop.Keyboard and touchpad: keyboard is the one part you can feel where they cut the price in terms of lower quality. The touch is not so smooth, and it could be better. But still I am writing this review on this laptop and I am comparing you with the Dell workbook (which costs 8x more). You can get use to it, so it`s nothing you should worry about. The touchpad does not recognize multitouch, but it does not really bother me since I prefer this older version of classic touchpads.Connectivity: so we have a bluetooth and wifi here. I have just tried the WIFI and so far is working without any problems (already connected to two different networks).There is also RJ45 connector, 2x USB, micro SD card slot so dont try to save your money and add at least 64GB micro SD. We have also HDMI connector (the traditional one), and there is the 3.5mm jack connector for headset (you can use the same headset as you use for your cell phone).Software: All you get is original installation of Windows 10 (32 bit version, even if the CPU support 64 bit), it`s a clean version, without any additional 3P software. All you have to do is to register your device. You dont have to buy a license, the license is already there and device is activated in terms of Windows.Battery: so far it`shard to comment, but I was able to did some tests (video, youtube etc.), installs (firefox, VLC), and the screen on time is around 3 hours, I went from 86% to 36%, so I should have no problem to survive at least 5 hours online (my display has at least +60% of the brightness). EDIT: battery is quite good. I would expect around 6-7 hours of watching movies (with high brightnes and turned on wifi, and probably around 5 hours of browsing with high brightness)Final resolution: I would definitely buy it one more time!Micromax vs iBall Excelance CompBook 11.6I wanted to order Micromax instead of Iball. The reason was simple - the IPS Screen. Since it`s not true, I would maybe think about it one more time and finally I would also consider the iBall, but I have also read the review when the reviewer was complaining about the not really good working touchpad (This would be still hard for me, because be honest guys, who from you is taking mice with yourself on the trips). So once the iball solves the problem with touchpads, their iBall series can be even better choice. In terms of HW it`s just the same package, but iBall offers more than double battery (if it`s true, 4 500mAh vs 10 000mAh for iBall).
69 people found this helpful. Was this review helpful to you?
Never puchase online products
By Abhinavon Jun 21, 2016 12:00:00 AM
I was so happy when i purchased this laptabBut soon after 1 month of usage it lost connectivity of tab with keyboard . It stopped working and now its not starting at all. I purchased it because of low price and as i m a poor guy with poor family i feel very repramanded and cheated. I totally lost trust in online products.
61 people found this helpful. Was this review helpful to you?
Micromax Canvas Lapbook L1160 price in India summary
We have aggregated Micromax Canvas Lapbook L1160 price and coupon offers available across all online stores in India.
Micromax Canvas Lapbook L1160 lowest price in India as on Thu, 19 Jan 2017 is Rs. 8415.0 offered by Amazon.
We also have coupons from 2 stores for this product.
Most online stores provide delivery in all major cities in India including Mumbai, Bangalore, Delhi, Hyderabad, Pune and Chennai.
People looking for Micromax Canvas Lapbook L1160 may also be interested in:
Micromax Canvas Lapbook L1160 price in India is
Rs.

8415 on 19th Jan 2017

Disclaimer:

Scandid is a search engine that crawls every online store in India to find every product that is sold online. We currently show products in Books, Computers, Electronics, Appliances and Personal Care categories. Although we make every effort to present accurate product and store information, including prices and stock availability, Scandid cannot guarantee and is not responsible for inaccuracies or omissions. Please give us

feedback

on these results!