Last updated on: 22nd May 2018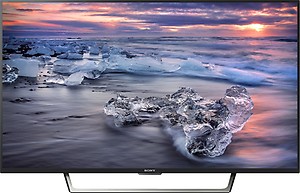 Sony 108cm (43 inches) KLV-43W772E Full HD LED Smart TV Price in India
Sony 108cm (43 inches) KLV-43W772E Full HD LED Smart TV price in India from
6 stores in India

from

Rs.

49999 -

Rs.

55999
Store Name
Additional Info
Price in India

Free:

7 offers

7 offers

+ more

Show 1 more offer

Free:

6 offers

6 offers

+ more

This 42.5 inch Sony TV is equipped with an adorable d.. This 42.5 inch Sony TV is equipped with an adorable design and Triluminos display through which the picture isn't blurred even when sunlight falls on it. It is sleek and elegant in every way. The te... + more

Full HD (Resolution: 1920 x 1080) Connectivity - Inpu.. Full HD (Resolution: 1920 x 1080) Connectivity - Input: 2*HDMI, 2*USB, Audio: 30 W output Triluminos display provides spectacular colors X-Reality Pro provides exceptional clarity This product is Refund only. There will be no Replacement or Change of Mind Returns allowed for this product Warraty information: 1 year manufacturer warranty + more
Sony 108cm (43 inches) KLV-43W772E Full HD LED Smart TV Specifications
In The Box
1 TV,1 Warranty Card,1 AC Adapter,1 AC Power Cord,1 Remote Control,2 Batteries,1 Table Top Stand,3 Instruction Manuals
Hd Technology & Resolution
Full HD,1920 x 1080
Wi-fi Type
IEEE 802.11b/g/n
3G Dongle Plug And Play
No
Other Internet Features
Opera Internet Browser,Application Store: Yes (Opera Store)
Composite In (Audio Video Cable)
1 (Bottom)
Headphone Jack
1 (Side Hybrid with Headphone Out,Audio Out and Subwoofer Out)
Rf Connectivity Input
1 (Side)
Other Connectivity Features
Smartphone Connectivity: Photo Sharing Plus,Screen Mirroring (Miracast),HDCP 1.4,HDMI-CEC,HDMI Audio Return Channel (ARC): Yes,USB Drive Format Support: FAT16 / FAT 32 / NTFS
Analog Tv Reception
B/G,D/K,I,M
Led Display Type
Edge LED
Supported Video Formats
MPEG1,MPEG2 PS,MPEG2 TS,AVCHD,MP4 Part 10,MP4 Part 2,AVI (XVID) ,AVI (Motion JPEG),WMV9,MKV,WEBM,WAV,MP3,WMA,JPEG
Other Video Features
Video Signal Support: 1080p (30,50,60 Hz),1080/24p,1080i (50,60 Hz),720p (30,50,60 Hz),720/24p,576p,576i,480p,480i,Picture Modes: Vivid,Standard,Custom,Cinema,Sports,Photo-Vivid,Photo-Standard,Photo-Custom,Game,Graphics,HDR Game,HDR Cinema,Dynamic Backlight Control
Supported App - Netflix
Yes
Supported App - Youtube
Yes
Operating System Present
Yes
App Store Type
Opera App Store
Pre Installed Browser
Internet Browser
Content Providers
Netflix,Youtube,Youtube Kids,Big Flix,Sony Liv,Serial AbTak,500 px,Opera TV Store,Internet Browser,Photo Sharing Plus,Photo Frame,FM Radio
Speaker Type
Front: Open Baffle Speaker,Sub Woofer: Bass Reflex Speaker
Sound Technology
Dolby Digital,Dolby Digital Plus,Dolby Pulse,DTS Digital Surround
Surround Sound
S-Force Front Surround
Sound Mode
Standard,Music,Cinema,Sports
Other Audio Features
Built in Woofer,Sound Processing: Clear Audio+
Power Requirement
AC 100 - 240 V,50/60 Hz
Power Consumption
93 W,0.5 W (Standby)
Other Power Features
Annual Power Consumption: 112 kWh / Year,Power Requirements: DC 19.5 V,Power Saving Mode / Back Light Off Mode
Width X Height X Depth (Without Stand)
964 mm x 571 mm x 70 mm
Weight (Without Stand)
9.6 kg
Width X Height X Depth (With Stand)
964 mm x 619 mm x 236 mm
Weight (With Stand)
10.2 kg
Stand Features
Stand Design: Silver U Slate
Other Dimensions
Package Dimensions (W x H x D): 1062 x 668 x 158 mm,Gross Package Weight: Approximately 14 kg,Stand Width: Approximately 620 mm,100 x 200 mm
Installation & Demo Details
Flipkart will facilitate Installation & Demo at time of your convenience from an brand authorized service engineer,Flipkart will communicate the day and time slot of the scheduled Installation & Demo through a SMS and the same information will also be available in your order details page,The service engineer will install your new TV,either on wall mount or on table top,The wall mount will be provided free of cost and carried by Service Technician,The Installation & Demo service will be provided free of cost,All additional accessories not part of the the package will be charged separately,The authorized service engineer will be providing detailed demo that includes,Physical check of all ports,including power and USB ports,Checking also of accessories,Understanding your new TV's features with complete demonstration of features and settings,Quick run-through on how to operate the TV,Preventive maintenance action to be taken
200 Hz
Blur free picture, Smoother movements in videos
2 X Hdmi
For set top box and consoles
2 X Usb
Easily connect your digital camera, camcorder or USB device
Warranty Available
: Manufacturer Warranty
1.
: Product will be delivered by our courier partner and will not unpack or provide installation of the product.
2.
: Sony Support on 1800-103-7799
4.
: Please feel free to reach shopclues customer care in case of any issues
Five Stars
By J K Dubeyon
Nice TV
The best panel money could buy within this price bracket
By E'viewson
The best panel money could buy within this price bracket. Purchased it from Sony Center. The colours are much much much more deep and vivid when compared to the panels of other brands like samsung, lg etc.And am damn sure about it coz before buying i visited reliance digital, croma, kings Electronics and arcee electronics for a better option in terms of clarity and colour production but each panel failed to beat this one. There were huge options in panels but when played with same content on each panel the difference was very evident, none came closer to this one, maybe because of the triluminous display.1.Best clarity and deep, vivid colour reproduction.2.Anti reflective coating because of which you can watch this display even in the brightest lit room without any reflection.3.Sound is very loud and equipped with Dolby Digital.4.Also equipped with a sub woofer which is a handy inclusion.5.Attached 1TB hard drive to it, which works absolutely brilliantly, no lag whatsoever.6.Also Attached amazon fireTV stick which works good.7.Wall mount is provided by Sony with zero extra cost.8.2 HDMI ports, 2 USB ports n 1 LAN port.9.Panel is extremely bright, so Bright that you cannot watch it if kept to the maximum.10.Remote control is a traditional one with YouTube and Netflix buttons and it works fine.11.All video formats are supported. Im a hardcore media enthusiast and m yet to come across any video format that is not supported.12.Comes with few preloaded bloatware out of which Amazon Prime Videos, YouTube, Netflix and Sony LIV are worthy and practically usefull.13.The panel is very snappy with good refresh rate.Guys am using this panel since 2 months, my advice would be to do not fall for cheap panels making larger than life claims. Go for this panel and you would never regret.
Best TV in term of Pictures Quality under 55k
By Vibhakar Lalon
Best TV at this Price pointThere is a golden rule in buying TV " Buy a TV which offer best picture quality at the said price point" .Thus with Triluminios display this TV blown away all is competition.I compared for more than 15 min Samsung 5570, I found Samsung has slightly better smoothness (refresh rate) but pictures reproduction is not great but bright but not colourful ,Another TV compared was Sony w800d which had every right combination but for yellowish dull display as compared to w772e. This TV even beat Sony 4K x7000 Series. This TV panel wise is best in its class.Pro:1.Triluminios Display2.Great Internet upscaling3.Anti Reflective coating works well.4.Beautiful Design5. Dose support HDR, watched TICK series on Amazon prime which had enabled HDR6 Low Power consumptionCon:1 Pethetic user interface. Opera browser dose not support any video playback.2. Miracast or WiFi direct Literally not worked me either on my iPhone, moto g5 plus or Windows 10 wire less display.2. Passable Audio, I recommend buy a 2.1 Sound box from creative and attach it to tv . sounds output from audio jack is fabulous.3. Only 2HDMI ,wtf My age old cx520 has 4hdmi .Over all ITs a fabulous Masterpiece and once you start watching content its really immersive.*you tube , net Flix can be controlled by mobile which add to comfort.
Genuine Pros & Cons for this TV
By Akash Yadavon
Got this TV from a Sony wholesaler in Diwali offer and got a 1TB sony hdd free. Got this TV for Rs.54,500. Here is my review for it.PROS:1. The panel quality is really good with the tri-luminous display. Color saturation and picture quality is really good compared to other Samsung, LG TV is same price range.2. Sound quality is good. Really loud and clear with a decent base. Samsung panel had a very disappointing sound.3. Sleek design, ergonomic and lightweight.4. Connects really easily with wifi and connected devices through screen mirroring. (No password required, works like a charm)5. Other features like direct Netflix, youtube support is good.CONS:1. The panel comes with a really limited set of I/O. only 2 HDMI, AV, two USB 2.0 and antenna connection. At this price point, they should have at least included USB 3.0 and 3 HDMI ports.2. The refresh rate is 50Ghz for this device, hence playing games via computer setup I noticed screen freeze.3. No Bluetooth connectivity is a big bummer.4. Screen mirroring not working for moto devices.5. No accessories included not even a HDMI cable. Seriously Sony, 55K worth of tv and not a single I/O cable included. Sony just ships the TV with power brick and remote.6. After sales services of sony sucks, not to mention they never pick up. Took their team 3 days to come and fix the wall mount. ( Wall mount not included in the setup)So if your primary purpose is just to watch media and music, this an excellent choice. but if your purpose is to use with a monitor for games, then go with Samsung or LG of the same price. Much better specs are available on other TVs.
Excellent TV
By Lijoon
If you want a 1080p TV for good for picture and sound quality then you never find anything beyond this TV from any other brand. The details of picture is outstanding. Just compared with many Full hd led panels but none of them can be compared with this TV, even few lg and vu 4k TV's cannot beat this TV in picture quality. I buyed it from offline store for 50k and compared this TV with many other brands in shop.Only sony 4k HDR TV's and some Samsung and lg flagship models beat this tv in picture quality.For optimum picture quality you must be atleast 6ft away from tv, we cannot say if the tv is playing 720p or 1080p from that distance both look almost same.Pros:-1) Excellent picture quality and engine.2) Clear sound with high volume (still prefer 2.1 or 4.1 for a explosive bass).3) Slim design great for walls and table top4) Audio can be send to both external and tv speakers at the same time5) Wide variety of video formats supported via USB6) Fully customisable settings7) All entertainment apps pre-installedCons:-1) No internal battery so the time will reset automatically if tv is unplugged2) Cannot play 2k or 4k via USB3) Some 1080i content gives a playback error4) inbuilt woofer is not that powerful5) cannot sync DTH remote with tv remote6) Screen sharing fails sometimes7) One of my 1 tb hdd shows cannot read ( but other 1 tb hdd works flawlessly)If you are looking for a TV for both picture and sound quality this is the one to defenitly go with. If you want a Android TV or want to play with many apps in tv this tv is not for you. This tv have a opera tv and have few apps like YouTube, Netflix,sony live apps to get video contents.As i already said this tv cannot play any videos beyond 1080p because x-reality pro engine cannot downscale any video contents beyond 1080p, so if you have lot of 2k or 4k videos like me you will get disappointed. But honestly this tv even beats many 4k tv from another brands like vu,lg, Samsung because of the picture engine, and currently there is no use to take a 4k tv if you are planning to watch the tv from 6ft or watching 1080p contents, both 4k and 1080p look same.I have not yet talked about the HDR feature of this TV because its only a marketing trick by Sony and its noted under the HDR tag that "HDR only supports in some PS4 titles and Netflix content", even there is a HDR option when playing USB movies but it's not a true HDR and waiting for Sony customer care to answer.This is the one of the best full hd tv you can currently get in India and price of sony will be a 5000 more than lg or Samsung but investing for a top class brand like Sony you will never regret. Thanks
Great product
By Ranganathan Iyeron
Great product and Flipkart completed delivery and installation on time.
Worth every penny
By Ajith Hollaon
Super pitcure quality.... Fully stratified
Worst experience with flipkart
By Flipkart Customeron
I ordered this tv and flipkart given me Faulty tv this is really bad experience with flipkart please if your planning to buy tv from flipkart please dont buy......
Worth every penny
By Dhruv Mahajanon
Great product. Timely delivery and installation. Was a bit dirty from the back but cleaned it with a cloth. Rest everything was fine. Also got it slightly cheaper as compared to other sites. Overall good experience.
Absolute rubbish!
By Flipkart Customeron
No one has yet come to install it .
Sony 108cm (43 inches) KLV-43W772E Full HD LED Smart TV price in India summary
We have aggregated Sony 108cm (43 inches) KLV-43W772E Full HD LED Smart TV price and coupon offers available across all online stores in India.
Sony 108cm (43 inches) KLV-43W772E Full HD LED Smart TV lowest price in India as on Tue, 22 May 2018 is Rs. 49999.0 offered by Flipkart.
Most online stores provide delivery in all major cities in India including Mumbai, Bangalore, Delhi, Hyderabad, Pune and Chennai.
People looking for Sony 108cm (43 inches) KLV-43W772E Full HD LED Smart TV may also be interested in:
Sony 108cm (43 inches) KLV-43W772E Full HD LED Smart TV price in India is
Rs.

49999 on 23rd May 2018

Disclaimer:

Scandid is a search engine that crawls every online store in India to find every product that is sold online. We currently show products in Books, Computers, Electronics, Appliances and Personal Care categories. Although we make every effort to present accurate product and store information, including prices and stock availability, Scandid cannot guarantee and is not responsible for inaccuracies or omissions. Please give us

feedback

on these results!