Last updated on: 17th Apr 2018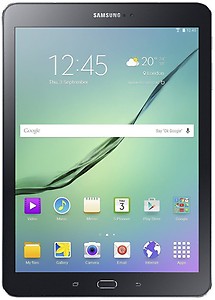 Samsung Galaxy Tab S2 9.7 inch Price in India
Lowest Price:
OUT OF STOCK
Samsung Galaxy Tab S2 9.7 inch Price Trends
Samsung Galaxy Tab S2 9.7 inch price at Naaptol has remained constant at Rs. 39400.0 in the last 3 months
The lowest online price for this product in the last 3 months was Rs. 38500.0 at Scandid
Samsung Galaxy Tab S2 9.7 inch price at Flipkart has fluctuated between Rs. 29900.0 and Rs.39500.0 in the last 3 months
The current price from Flipkart is Rs. 29900.0
The lowest online price for this product in the last 3 months was Rs. 38500.0 at Scandid
The lowest online price for this product in the last 3 months was Rs. 38500.0 at Scandid



The prices in the Price Trend graph do not include coupon savings.
Samsung Galaxy Tab S2 9.7 inch Specifications
Model Number
SM-T819YZKEINS
Operating System Version
Lollipop
Sales Package
Tablet,Travel Adaptor,Data Cable,Ejection Pin
Display Resolution
1536 x 2048 Pixels
Primary Camera
8 Megapixels
Additional Content
Without Headphone
Battery Capacity
5870 mAh
Bluetooth Version
v4.1,A2DP,LE
Expandable Storage Capacity
128 GB
Talk Time
Up to 12 h (multimedia) (2G) / Up to 30 h (3G)
Dimensions
237.3 x 169 x 5.6 mm (9.34 x 6.65 x 0.22 in)
Brilliant
By Aleem Ijazon
Product is cool... Thats good tablet... And worth... But the every same device has minor scratches on it i returned it because scratches.. Even though they sent new device that too had minor Scratches.. Overall tablet is good..
Excellent
By Pradeep cron
Wonderful product delivered on time.
Wonderful
By My reviewon
Delivered in time, good excellent instrument, battery also ok. Nice clarity over all its pretty good
Very poor
By Flipkart Customeron
Sent me used tablet. SO card, SIM card cover and opening pin was missing in the sealed box. Returned the product. Money refunded very quickly. THANKS Flipkart.
Used it for 4 months...
By Ritesh Guptaon
Overall, it is a good product but considering the price, is it value for money, you decide yourself: My rating depicts my view Pros: Gorgeous screen but too oversaturated that strains eyes significantly over a long a period of time. Solid and very pretty design Calling tablet hence all mobile app (whatsapps, mobile banking,shopping etc.) are installable. No discrimination by APPS Controlled heating but that controls performance as well. Cons: - Insufficient RAM or poor RAM management, out of 2.7 GB (real RAM) only 1.6 GB was available on first boot and after installing 20 odd apps, free RAM almost never crosses 1.4 GB mark. If you are power consumer i.e. twitter, facebook, email, whatsapp then dont expect to have more than 1.1 GB RAM free. - Lots of bloatware like normal GOOGLE APPS plus samsung's own apps plus plus microsoft app like skype, ms office etc. Come on samsung I paid for the 32 GB storage,, allow me to decide what I want in that storage. - Average or below average battery backup. 5970 MAH battery for 9.7 inch screen is a JOKE. If you want more battery then use all black themes like wallpaper, browser background,, twitter theme, facebook theme etc. But if I have to use BLACK for battery purposes what the the is need for GORGEOUSNESS of AMOLED screen. Come on sammy increase the thickness by .5 mm but give me at least 7000 MAH buddy. - Charging from 0 to 100% is a nightmare (anything between 3.5 to 4.5 hours).. Dont kid me sammy. Why not fast charging in a tablet of 40k. - Somewhat average gaming performance. I could face quite lot of lag while playing NOVA, NEED FOR SPEED etc. - Average camera performance. Front camera is useless if you are looking for a high definition SKYPE or VIDEO CALL. Rear camera is good for day lighting. Under room lighting it is not even worth using. Why not a SINGLE LED flash sammy like on NEXUS9. - Slows down significantly over a period of time. I did try to optimise by disabling almost all bloatwares, disabling screen effects and screen animations yet after 3 months or so, its performance lagged quite significantly. May be due to their POOR exynos chipset... - Finger print scanner is not an active but passive one which means, you have to press the front home button to wake up and then only you can use the FINGER PRINT to unlock the device unlike many phones which unlock the device straightaway. - No BLUE LIGHT filter. Display mode does have READING MODE but that reading mode is not actually a reading mode. Reading mode enhances the color reproduction quite significantly which strains the eyes, further, though the screen colors do get little warm by this reading mode but BLUE LIGHT is still very significant so as to disturb your sleep. Think before spending almost 40k.
Close your eye, and purchase this one.
By Pratip...on
A single word description ??? AWESOME!!! Yes, you heard it right..... It's absolutely stunning. Screen is great, processor, ram and storage is good too. But the storage is slow (when delivering files to PC). Over the air WiFi share with a 1.9Mbps wifi 5GHz is as slow as 1.0Mbps in an average. Compared to my old Sony Xperia Z3 Compact transfers file at 3.5Mbps in an average. After all, this product is worth of money.Samsung should at least include a screen guard. There was no headphone as well.... :( Getting a proper screen guard or tampered glass is very hard for this product. I mean to say, no one is having a perfect fit.
Samsung Tab S2 is a sure Tough contender to beat : Compared to the new Apple ipad 2017
By Neeraj Vishwakarma~The In-depth review ~on
A LITTLE PREVIEW:xxxxxxxxxxxxxxxxxxxxxxxxxEven though I already have a Nokia 1320 6" phablet apart from a dedicated laptop which was purchased with an intention of casual net surfing by my wife & casual gaming by my 5 year old kid, in recent months I realized it was just not enough anymore with the ever increasing trend of online surfing/shopping & the growing IQ of my kid.Limited games on windows app store left my kids quest for quality games handicapped and every time zooming of pages to closely examine costumes on myntra etc started to annoy my wife.So with a growing economic stability, social stature, plans to own products from essential to desirable category took over & I decided to buy a tablet with a decent processing power almost equivalent to that of a casual laptop.THE BIGGEST DILEMA:xxxxxxxxxxxxxxxxxxxxxxxxxxxxxxxxxxxxxxxxxxWhenever we talk of a buying a tablet with decent processing power to match a casual laptop , The clutter of so many tablets clears out & almost everytime the options converge to only two Mega Brands : Apple & Samsung.APPLE VS SAMSUNG:*********************************Believe me, if you don't have any pre-set inclinations to any of the above brands,choosing could take you forever or at least Give you a Hard time.& It happened to me & I was stuck up pretty bad.Let me sum it up, in few points to put forth the Dilema I was facing.1.) Glorious Apple eco-system, Its vast app & games store,Loud and clear stereo speakers & a super responsive stutter free performance with its ios 10 & lifetime software updates left me inclined towards the ipad.2.) The Splendid & unbeatable picture quality with [itch blacks & vivid colors on a Super Amoled screen of Samsung tab S2 ,Stylish & lightweight construction & plenty of customization options in android OS further shifted my interests in favour of the S2 tab.Not only was the choice between and ipad and a Samsung tab confusing, I was further stuck up on the choice between a handy 8.0"inch or a more perfect 9.7"size.Let's elaborate on each in an organized fashion to reach out to a conclusion.SIZE:************Size selection is an unnecessary but most imminent hurdle during a tablet purchase.An 8"inch tablet may offer a super portability and somewhat cost reduction but if the users are more than one, as in a family, I suggest going for a 9.7"inch is always a more satisfying & future proof option and almost always eliminates the repeated zoom-in discomforts.Single users may opt for 8.0" versions as a personal favourite.Wi-Fi OR CELLULAR ?*********************************This is again a Tough Call. Inclusion of a Cellular option along wi-fi in a tablet may set you back anywhere, ranging from 8000 to 15000 bucks straight away.However, with the introduction of JIO sims in the market and the restricted portability for data connection in "wi-fi only" tablets, In my view the extra cost for cellular capable tablets is well & timely compensated .SUPER AMOLED VS RETINA DISPLAY:***************************************************Both the apple ipad and S2 tab come in 4:3 aspect ratio & offers equivalent screen resolution at 1536 x 2048 pixels with 264 PPI density which is super sharp to view but with its supreme contrast ratios, pitch blacks & Vivid colors , the Amoled display packs more life and punch & is always a delight to watch.That doesn't mean retina display is bad by any means but when compared to an Amoled, it falls short of winning ribbon.*** Also worth to quote is the fact that, apple has stopped the production of the ipad air 2 & launched a new ipad 9.7 which even though packs the power of A9 processor doesn't actually have the display laminated directly to the outer glass which feels as if things are floating in air and thus may feel disturbing to some.So choice in this category is fairly clear and easy, It's the amoled that takes the crown.BUILD AND CONSTRUCTION:******************************************Ipads are almost always build similar & rigid in any model, with an all metal aluminium build with a shining apple steel logo at the back.Samsung tablets however are more sleek and delicate than their apple counterparts but a premium & stylish plastic build with metallic rim all around.As a result apples are mostly heavier than their Samsung counterparts. Infact the new ipad 9.7 launced by apple is thicker & heavier to its predecessor and this wasn't pleasing to me at all.I just could not bear the fact that if I go for a new apple ipad 2017, it would be the version which is thicker & doesn't have a laminated display .. disappointing.On the Glass front neither of the two has a Gorilla glass or anything and demand care while handling.LOUDSPEAKER QUALITY:************************************Both apple and Samsung tab are equipped with stereo speakers but there is clear quality difference between the two.The Samsung speakers are sure loud & feel okay when heard aloof but with an apple playing around, there's just no competition anymore.The sound from an ipad is very loud yet so full of life and beats.The whole audio spectrum is well crafted on an ipad than a Samsung.CAMERA:***************Nobody buys a tab particularly for its camera & most of the tabs are designed with the same theme. Samsung has a 8 MP autofocus primary camera and 2.1 front camera and in my opinion its quite good. Apple ipad camera is a tad lower at 8 MP primary and 1.2 MP front camera.CPU HARDWARE & SPECS:***************************************The new ipad 9.7 comes equipped with the A9 processor @1.84 GHz with 2 GB of RAM and the Samsung tab 2 SM-T819 Y comes with an octacore snapdragon 652 with 3 GB of RAM.Though,However hi-fi, the specs of any "other than apple" brand may seem,bundled together with its own IOS apples deliver unmatched fluidic response ,stutter free gaming and lag free operation.To give you an idea my S2 tab 9.7 gave an Antutu score of 72300 on android 6 (which became 83200 on Nougat update) whereas the score of the new ipad is in the range of 120000.That doesn't mean S2 is bad at gaming or gives stutter at all, it's good but not as good as an apple for all intensive CPU & GPU involvement.So those who want a tab mostly for gaming, apple is the way to go.BATTERY:*******************Tab S2 comes with a non-removable 5870 mAh battery whereas the apple ipad comes with a non-removable Li-ion 8827 mAh battery beneath its comparatively thicker & heavier chassis.Excess ram consumes battery & Amoled display conserves it. However it's the final integration of the hardware and efficient software that accounts for battery usage.however in my opinion the battery backup of S2 is simply awesome & lasts over a day even on gaming probably due to its energy conserving cpu & display.If i do not use it from the morning to evening,in the evening i hardly find 1% drop of battery even on sim.Overall the battery on apple is superior and can easily provide over a day use.OS & UI : THE REAL DEAL:*************************************Apple never allowed unscreened apps to their app store ,they have their own quality apps and efficient software mechanisms to drive their hardwares at the best.The UI of IOS is very straightforward and easy to use, even for a kid. Lack of customization is one of the major strengths as well as a drawback of the ios .The apple app store is vast but limited customization lacks a sense of freedom to the user.Android on the other hand even with its 3 GB RAM tends to accumulate clutters and get slow over a period of time and requires junk removal for optimized performance.STORAGE:**************Here's where the apple suffers a severe blow. Ipads come in fixed storage options of 32/128 GB internal storage whereas on the contrary Samsung tab S2 comes with a 32 GB internal storage ( 23 GB usable)along with expandable card slot.Expandable storage freedom gives a sense of relief to the user when storing or downloading movies onto the tablet unlike a constant fear of memory shortage which is very annoying & unsettling.SUMMARY FOR TAB S2 :xxxxxxxxxxxxxxxxxxxxxxxxxxPROS:************1. Exceptional looks: Much better than apple's new ipad 2017.Stylish & Sleek design with a diamond cut rim around the front edge which adds to the glory. Looks so Sophisticated .2. Extremely lightweight: Men, women & kids can hold it all day without any noticeable difference.3. Exceptional Display quality : Super sharp 264 PPI density Super Amoled display.Splendid contrast ratios,super pitch blacls & vibrant vivid colors are a definite pleasure to view.4. Decent CPU & RAM : T-819Y model comes with a Snapdragon 650 CPU , Adreno 510 GPU & 3 GB RAM which is a decent fast specification to handle games.It can run high end games too but not at high frame rates like apple though.5. Storage expansion at your will:You can add micro SD card for storage expansion and do not need to be scared of too much downloading.6. Flexibility of Customisation options in Android OS.CONS:***************1. No metal chassis like apple : though done for weight reduction.2. Inferior quality loud speakers to apple ipad. Loudness too is a tad below apple.3. Graphics handling during games not as fast as an ipad, infact apple OS very fluid to operate.4. Advantages inherent to apple IOS: quality apps and a vast app store from gaming to applications.FINAL VERDICT:xxxxxxxxxxxxxxxxxEven though I have a great admiration for the Apple ecosystem and really wanted to buy an ipad this time, but the recently released ipad 2017 spoiled my plans.I never liked new apple's un-laminated display design along with a bulkier chassis & when it came to the final purchase inferior display to amoled, limited storage expansion options, lack of customization etc pulled it off.Recently updated to Nougat after which my Antutu score increased from 72000 to 83000 which denotes further efficiency increase of the device.In short I would rate Samsung tab S2 819 a 10/10 for the looks & 9/10 for the overall performance.
Great
By Salim sayyadon
Product found as described
Amazing!!!
By NUTANon
Great tablet , everything good about it!!
Awesome display. Surfed 2-3 web sites
By Rajesh kohiron
I just bought yesterday. Extremely light weight, Awesome display. Surfed 2-3 web sites.Stunning Display.This is my dream tablet. I have been searching for the tablet for last 2 years.Frankly i did not like any one including ipad due to heavy weight and not upto the display clarity and thinkness.This is the first tablet met all my requirements. So i bought it immediately.
Samsung Galaxy Tab S2 9.7 inch price in India summary
This product is currently out of stock at all online stores. Add this product to Wishlist and we will send you an alert when it is back in stock.
People looking for Samsung Galaxy Tab S2 9.7 inch may also be interested in:
Samsung Galaxy Tab S2 9.7 inch price in India is
Rs.

N.A. on 21st Apr 2018

Disclaimer:

Scandid is a search engine that crawls every online store in India to find every product that is sold online. We currently show products in Books, Computers, Electronics, Appliances and Personal Care categories. Although we make every effort to present accurate product and store information, including prices and stock availability, Scandid cannot guarantee and is not responsible for inaccuracies or omissions. Please give us

feedback

on these results!