Last updated on: 22nd May 2018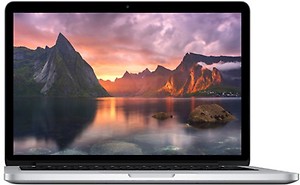 Apple Macbook Pro 2015 Core i5 5th Gen Price in India
Apple Macbook Pro 2015 Core i5 5th Gen price in India from
1 stores in India

from

Rs.

205900 -

Rs.

199900
Store Name
Additional Info
Price in India

Show 3 more offers
Apple Macbook Pro 2015 Core i5 5th Gen Specifications
Sales Package
1 Laptop,1 Charger,1 Extension Cable
Suitable For
Processing & Multitasking,Entertainment
Battery Backup
Up to 9 hours
Dedicated Graphic Memory Type
GDDR5
Dedicated Graphic Memory Capacity
2 GB
Processor Generation
5th Gen
Graphic Processor
Intel Integrated HD
Operating System
OS X El Capitan
Supported Operating System
Mac OS
Screen Resolution
2880 x 1800 pixel
Wireless Lan
IEEE 802.11a/b/g/n
Web Camera
720 Pixel HD Camera
It's the one thing Apple knows how to make...and boy it's lovely
By Jamshir Goorabianon
Bought this from an Official Apple Premium Reseller about a week ago. I am a software engineer so I have tested this thing from the programming point of view as of now. Having used all 3 OS's in the past, Linux, MAC OS and Windows I can guarantee that MAC gives an overall satisfactory performance. Linux comes in second followed by Windows. For Business professionals I suggest investing in Windows. Moving on to the Macbook itself. The main reason someone would spend so much money on this computer is NOT THE OS but it is actually the HARDWARE that makes it astounding. PRO's: 1. Battery life: Laptops other than a MAC do not even come close to the battery life output of a MAC. Casual web-browsing, music streaming and documentation would not drain your battery and will easily get you through a day. If you keep brightness of the screen low, it might last even more. 2. Screen: the Retina display on this is fabulous. Color is a little off than the standard shade but clarity is on point. 3. Unibody Metal Construction: the metal case of the laptop itself is amazing and gives it a really solid feel. It is a bit heavy when compared to a Macbook Air but if it's in your backpack, you'll forget that it is even there. 4. Force Touch Trackpad: you won't find anything like this in the market. It's one of the main reasons for me to buy this laptop. No more left and right click nonsense involved. Click anywhere and your work shall be done. And it is very responsive. 5. Processor: 5th gen core i5 keeps it running fairly smooth. Coming from a Windows laptop with core i7 I did not see too much of a difference in computation speeds. But yes apps do open and close faster due to the super fast SSD. 6. Static State Drive (SSD) Storage: This machine has the fastest SSD ever made and it is effing awesome! I transferred over 90GB of data from my external hard drive in a little less than 3 minutes. The same thing on a conventional HDD laptop would easily take 10-15 minutes or more. Also, the booting up of the laptop is blazing fast. Apps open up super quick and file transfer within the internal storage happen within fractions of a second. 7. Ports: I wish it had 3 USB Ports but sadly it has only 2. It also has 2 Thunderbolt ports which I haven't made use of as of now. Has other standard inclusions like HDMI, Headphone jack, SDXC card slot. Cons: the only major drawback of using this laptop is it's KEYBOARD. It really sucks. The keys feel really cheap and the feedback was not satisfactory either. I put a silicone cover for the keyboard which has improved things but it is nowhere close to keyboards made by HP and Lenovo. If you're planning on getting a new machine, and if you're currently on windows, I would suggest you first try out a Macbook if any of your friends have it. Windows is a lovely OS and is as good as MAC OS, if not better. But sadly Microsoft doesn't build laptops themselves and what manufacturers like HP, DELL, Lenovo, etc put out do not come close to this. Currently, the only Windows laptop which is being compared to this laptop is the Dell XPS13. That is a great laptop as well but if I'm not mistaken it is much pricier than this laptop. NOTE: Once you start using a Macbook, you won't go back to Windows. Not at least till the time Microsoft makes a solid Macbook competitor to match the hardware performance. P.S. You have the option of dual-booting your Mac with Windows if you really do need Windows on your machine. My suggestion - don't. Stick to the native OS and don't mess around with something which is already well capable of handling all your day-to-day tasks. Just buy it, the price might be a hindrance but the laptop will not disappoint. I promise.
Worth it. Totally.
By Sanjay Dixiton
There is a reason the price doesn't seem very pocket friendly. The premium design will blow your mind. Have been using it for more than a month now and here are some points to note. Pros: - The 13 inch display it sports is probably the most beautiful one I have ever seen. - Light weight, great power backup, insanely powerful and I have not words left to describe the speed at which data is transferred (on the SSD). - Force Touch is an amazing thing in itself. - Decent OS, with regular updates. Cons: - The charger cord gets disconnected from the device often upon the slightest brush of my hand, probably magnets are not powerful enough to hold them together. - Not many features (UI and otherwise) making use of force touch. Overall: If you are considering to buy this beauty, do it. Now!
Awesome Macbook pro
By Bhavdip Patharon
Few days ago received this product. Actually it was came one day before the shipping date for that would like to say thanks to Flipkart. As usually, It was came with good packaging. When i was thought to buy the macbook pro, frequently visited the Flipkart and other sites where read the other people's reviews. I had decided to move from window to Mac without knowing that which laptop is best either Apple Air or Apple Macbook Pro. I try to research and study about the Macbook laptop,Finally come with the solution that Macbook pro is best fit with my need and buy it from here. I choose it because looking that it has high RAM and latest processing power and no issue with SSD. This configuration also available in AIR but when compare this is the advance version of Macbook that help you when you want to work on more graphics and multiple applications. It's battery life is very good and plus point charging fast and run long(depend on the usages). If you are the person who are more dealing with the multiple application/software on daily base then I would suggest this mode is best for you. You can think to purchase this model. Actually quality vise it's fare better compare with the other brand laptop series. Finally, Apple design the amazing premium product, light weight, faster and powerful. Thanks.
From Windows to MacBookPro !!
By Divyanshu Singhon
I absolutely love my MacBook Pro 13.3" laptop. I got 7.5% extra @ http://bit.ly/840hnfkt via flipkart !! Awesme Product , I am coming from windows (I have an Dell Studio 1558 that I've i5 clocked at 2.3 ghz with 6 gb RAM and 500GB HDD). I was extremely hesitant at first from switching from windows to iOS, but i'm glad I did. The MacBook Pro is extremely fast. The bootup time is insane. It is SSD, so everything is extremely quiet compared to HDD. Below I will outline just a few of the Pros and Cons of the macbook Pro. Pros: - iOS is extremely user friendly and the new iOS X makes life easy as it will convert your windows files to a readable format to iOS. - The Laptop is made of sturdy materials that I believe will last. - All SSD, which equals way faster read/write times - The Retina display is amazing, the best i've ever seen - The all new Force trackpad is by far my favorite. i prefer it over my mouse. - The keyboard is sweet and addictive. - The overall quality and my personal satisfaction with my purchase has increased my productivity in all respect. ;) Cons - Price, as u come from windows world. But it delivers upto its mark. - The 13.3" is comparitively small as Windows PC come with an average high, BUT I personally like it. Too handy. - Apple offers high priced storage ,this may be the real worry for Windows Users, although it has SSD which is very quick. - The awesome quality makes you nervous about dropping it. If you do not have a protective case, your MacBook Pro has a high chance of being destroyed upon impact. - You might lack much customization with iOS as with windows, but it's also a lot more stable. For a hardcore user of Windows for long time,this is best thing to be upgrade with. Overall Impression: I am overall pleased with my MacBook Pro. My friend purchased a MacBook in 2006, and it still operates fine to this day, which says a lot. The most impressive functionality for me with MacBook Pro and iOS. Buying Guide: I got it online at about 92k ,which is approx 10-15k less it you buy it from offline mode and there is no warranty issue as apple offers whole 1 yr International Warrant. So, don't hesitate and go for online buy. After Buy: As you are buying a costly machine .So, also go for a 2 year warrant extension if your pocket allows. You can buy this pack from any Apple Store/Online. I hope you guys decide to purchase a new MacBook Pro. I ensure you you will love it. even the people coming from Windows will appreciate it, as I did. Thank you and have a great day!
I Like it
By Muthukumaranon
After a long thought and with little hesitation (since it is expensive), i bought this Mac from Flipkart 3 months before. Installed both windows 8.1 though boot camp and Yosemite. I'm totally satisfied with this mac and very happy with its performance for both OS. The Mac OS updates are hassle free & easy. The windows partition works like a normal windows laptop.I've installed visual studio with sql server 2012 and it works perfectly. The picture clarity, sound are very good. Mouse track pad is excellent. Battery back up seems to be best. For my usage it lasts easily for 9 hrs inspite of continuous internet usage. Cons: On working in windows, the machine gets more heated and the battery back up time goes down. Even though not much of difference, if that is corrected there will be nothing to say as con's for this machine.
Brilliant
By Flipkart Customeron
Sold my flat to by this . thank god just because of it i am never bore while begging on streets.
Best in all
By Utkarsh Kumaron
Best by feature but too much costly.
Must buy!
By Shivam Aroraon
Cool i used its best
Just wow!
By Utkarsh Singh Rathoreon
Awesome performance and one of the best laptops aroun.If you can afford it, go for it.
Good but nothing fancy
By Rahul Palon
I have a KTM DUKE 390 and it's faster than macbook ......
Apple Macbook Pro 2015 Core i5 5th Gen price in India summary
We have aggregated Apple Macbook Pro 2015 Core i5 5th Gen price and coupon offers available across all online stores in India.
Apple Macbook Pro 2015 Core i5 5th Gen lowest price in India as on Tue, 22 May 2018 is Rs. 205900.0 offered by Flipkart.
Most online stores provide delivery in all major cities in India including Mumbai, Bangalore, Delhi, Hyderabad, Pune and Chennai.
Apple Macbook Pro 2015 Core i5 5th Gen price in India is
Rs.

205900 on 23rd May 2018

Disclaimer:

Scandid is a search engine that crawls every online store in India to find every product that is sold online. We currently show products in Books, Computers, Electronics, Appliances and Personal Care categories. Although we make every effort to present accurate product and store information, including prices and stock availability, Scandid cannot guarantee and is not responsible for inaccuracies or omissions. Please give us

feedback

on these results!