Last updated on: 20th Mar 2018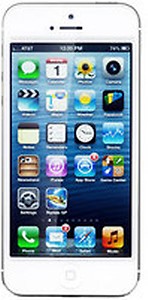 Apple iPhone 5 Price in India
Product Summary
Apple iPhone 5 has a 4 inch LED backlit TFT touchscreen display with 640 x 1136 pixels resolution.
iPhone 5 runs the iOS 6 operating system.
It is driven by 1.2 GHz Apple A6 dual core processor with 1GB RAM.
iPhone 5 has an 8 mega pixel camera with HD facetime.
The phone has an internal memory of 16GB expandable up to 32 GB.
Apple iPhone 5 has a 1440 mAh battery which offers an 8 hours of talk time.
+ more
Apple iPhone 5 price in India from
5 stores in India

from

Rs.

13999 -

Rs.

60990
Store Name
Additional Info
Price in India

Show 1 more offer

8MP primary camera with autofocus, tap to focus, LED .. 8MP primary camera with autofocus, tap to focus, LED flash, face detection, hybrid IR filter, panorama, video recording and 1.3MP front facing camera<br> 4-inch multi-touch screen with 1136x640 pixels resolution<br> iOS operating system and in-built memory upto 64GB<br> Battery providing talk-time of 8 hours and standby time of 225 hours on 3G<br> 1 year manufacturer warranty for device and in-box accessories including batteries from the date of purchase<br> + more

Show 2 more offers
Apple iPhone 5 Price Trends
Apple iPhone 5 price at Ebay has fluctuated between Rs. 14799.0 and Rs.29999.0 in the last 3 months
The current price from Ebay is Rs. 82799.0
The lowest online price for this product in the last 3 months was Rs. 16599.0 at Scandid
Apple iPhone 5 price at Greendust has remained constant at Rs. 18899.0 in the last 3 months
The current price from Greendust is Rs. 18899.0
The lowest online price for this product in the last 3 months was Rs. 16599.0 at Scandid
Apple iPhone 5 price at Rediff has fluctuated between Rs. 29449.0 and Rs.58990.0 in the last 3 months
The lowest online price for this product in the last 3 months was Rs. 16599.0 at Scandid
The lowest online price for this product in the last 3 months was Rs. 16599.0 at Scandid




The prices in the Price Trend graph do not include coupon savings.
Apple iPhone 5 Specifications
Resolution
1136 x 640 Pixels
Resolution Type
Retina Display
Other Display Features
Finger Print Resistant,Multi-touch,Oleophobic Coating on Front,Retina Display,Mercury-free LED-backlit Display,Arsenic-free Display Glass
Operating Frequency
GSM - 850,900,1800,1900; UMTS - 2100
Primary Camera Available
Yes
Primary Camera Features
Panorama,Face Detection,Geo-tagging,Tap to Focus,Auto Focus,iSight Camera
Secondary Camera Available
Yes
Secondary Camera Features
HD Video Upto 30 Frames per Second
Video Recording Resolution
1920 x 1080
Internet Connectivity
Wi-Fi,EDGE,3G
Wi-fi Version
802.11 a/b/g/n
Touchscreen Type
Capacitive
Sensors
Accelerometer,Three-axis Gyro Sensor,Digital Compass,Proximity Sensor,Ambient Light Sensor
Other Features
Multiple Languages Support,Video Stabilisation,Video Geo-tagging <p> System Requirements,Keyboard Support,Dictionary Support,Lightning to 30-pin Adapter,AirPrint
Important Apps
iCloud,Built-in Apps,iTunes Store
Video Formats
H.264,M4V,MP4,MOV
Battery Capacity
1440 mAh
Talk Time
Up to 8 h (2G) / Up to 8 h (3G)
Wlan
Wi-Fi 802.11 a/b/g/n, dual-band, Wi-Fi Plus Cellular
Music Player
Yes, Up to 40 h
Sensor
Accelerometer, gyro, proximity, compass
Displaytype
LED-backlit IPS TFT, capacitive touchscreen
Dimensions
123.8 x 58.6 x 7.6 mm
Applications
Twitter and Facebook integration, iBooks PDF reader
Social Networking
Facebook Twitter
Wifi
802.11a/b/g/n Wi-Fi (802.11n 2.4GHz and 5GHz)
Speaker
In-Built Loud Speaker
Tv Output
AirPlay Mirroring to Apple TV support at 720p ,AirPlay video streaming to Apple TV (3rd generation) at up to 1080p and Apple TV (2nd generation) at up to 720p
Games
3D game, G-sensor game, classic games, touch games
Input
Predictive text, Multi Touch Input
Messaging
iMessage, SMS (threaded view), MMS, Email, Push Email
Miscellaneous
Tap to focus video or still images; Face detection in video or still images; Improved video stabilisation; Photo and video geotagging; Three-axis gyro; Accelerometer; Proximity sensor; Ambient light sensor
Contents
iPhone 5, Apple EarPods with Remote and Mic, Lightning to USB Cable, USB Power Adapter, Documentation
Web Surfing
10 hrs (Wi-Fi)
Touch Screen
Capacitive, Contains Touchscreen
Talktime
8 hrs (3G)
Processor
1.2 GHz,Dual Core
Ringtone
Proprietary Ringtones, Vibration
Wireless Communication Technologies
Bluetooth, WiFi Hotspot
Whats In The Box
iPhone 5, Apple earpods with remote and mic, Lightning to USB cable, USB power adapter
Best Sellers Rank
#1,33,285 in Electronics (See top 100) #2335 in Electronics > Mobiles & Tablets > Smartphones & Basic Mobiles > Smartphones
Customer Reviews
3.4 out of 5 stars 48 customer reviews
Batteries
1 Lithium Metal batteries required.
Apple iPhone 5 Coupons
There are 1 coupons available for this product: 1 for ebay
Ebay

See all ebay coupons
The best money can get(in-depth review)
By Rahul Sinhaon
I have been using this phone for the past 3 months. Following r da pros n cons.. PROS: 1) LOOKS: It looks classy..premium construction…premium looks…only htc one is any close to this..but den it's a lil bulky in front of the iphone 5. 2) SCREEN: Excellent 4 inch screen…great contrast n brightness..ok its ppi of 326 is less dan htc one/s4/htc butterly…bt if ur eyes cant differentiate between pixels in 326 ppi den wots da use of 441 ppi(Samsung galaxy s4) or 468 ppi(htc one)…..extra pixels wud only cause battery drain…excellent viewing under sun also…beats s4 and htc one hands down… 3) CAMERA: Its 8mp…bt its excellent in any kind of situations..under bright light it produces photo wid great detail without any oversaturation of colours…navigation to camera app from lock screen is very fast….in low light condition also it produces some amazing snaps…s4 is a real bummer in dis aspect…it matches lumia 920 n htc one on dis aspect…iphone 4s also has a great camera…iphone 5 is only an improved version of 4s with better low light photography…I have downloaded an app called as "Kitcam" dat helps u increase da shutter speed/exposure time till 1 second…dis makes u click sm amazing photos in night w/o flash…in general da shutter speed is also amazing..u click n u hv da pic..Even da back camera(1.3 mp) is great for self portraits n video chatting.. 4) VIDEO: Excellent image stabilization produces better video footages as compared wid s4 and htc one…only lumia 920 produces a lil better video under shaky circumstances 5) BATTERY: With 3G on all da tme…..4 mail accounts synced…calls..safari web browsing…whatsapp…camera…switching between apps like facebook, flipboard,ndtv, tumblr etc..it gives me a solid 12-15 hrs…its better dan any android phone.. 6) MUSIC: An ipod is always in an iphone…music quality is decent wid da apple earpods supplied..its bass heavy n a lot better dan its previous iteration…but if u upgrade ur cans den u can listen to sm serious audio…I have bose ie2 earphone and Beats Studio headphones n da music quality is full of detail even in da top volume settings..As far as da speaker goes.. its also loud enough wid great detail wen not increased to the max volume(for some songs)…otherwise its great.. 7) APPS: Don't have much to say here…its known to da world dat da appstore has more n better apps dan any other platform… 8) IOS: The software running under da hood i.e IOS 6.1.4(latest) is excellent without any lags…u multi task..open any number of apps..it wont lag..i have 105 apps installed wid 30-40 apps open always on an average… 9) ACCESSORIES: One of da biggest advantages of having an iphone is da friendliness with accessories..u have 100s of great accessories available(not everything available in India..but u have eBay) available dat can even enhance n exploit da already gud features of iphone..recently I bought Ollocip dat is a camera enhancer..its has 3 lenses dat can be very easily connected to iphone 5 n help u take excellent pics…. 10) SOFTWARE UPGRADATION: One thing in which android sucks is the software upgradation…an apple device gets to njoy 4 upgraded versions wid timely updates..iphone 4 was launched in 2010 with ios4…its been upgraded to ios6..n ios 7 wud be its last upgrade…whereas android devices don't get more dan 2 upgrades and time is also a big factor…Sony xperis S(last year's sonys' flagship) hasn't received jelly Bean till now…Nexus devices r an exception though.. CONS: 1) SCREEN SIZE: If big screen size is ur cup of tea den u will hv to look at other platforms viz Andriod, Microsoft ..For me its da adequate size dat can be operated wid single hand.. 2) CUSTOMIZATION: If u want to customize ur phone n give it a new look everyday den android would serve ur purpose better….apple has everything basic..u can jailbreak though but den also da customization wont be of da same degree as android would provide u…. APPLE vs ANDRIOD fight: Apple's software and hardware are made for each other(i.e their software IOS and hardware viz A4/A5/A6 processors is made in house ) which makes them perform better dan da android counterparts…android has quad/octa cores but 99% of apps don't require dat kind of processing power…iphone 3GS has 256 mb of RAM and 600 Mhz single core processor…but den also it is able to play games such as NFS hot pursuit dat even a 1 Ghz android phone would hv problem playing it….so apple must never be compared on pure specs because its an optimized device unlike any android device(except nexus devices)……. I am not an iphone fanboy but ya I do prefer quality over quantity..I have used nokia lumia 800, iphone 4 and Google nexus S smartphones before...
Excellent Phone !!!
By Ashvin Vasavaon
Excellent product from Apple.This is the one of the most beautiful and Smart phone on the planet right now. This phone is way better than android.Features are less than android but way better in operating and stability.go for iPhone..
Your girlfriend would be jealous !
By Avinash Khatuaon
Bought this last month.White.The phone truly is amazing.The weight and feel is just outstanding. The touch and display has no comparison to any other smartphone. Pros: 1. Apple iPhone :) 2. Camera 8mp too good compared to other 8mp cameras 3. A6 chip is fast and games like Real Racing 3 and NFS gives u a feel of ps3 graphics. 4. multitasking is smooth and no lags. 5. Speaker and head phones are state of the art. 6. The new ultra lightening charger actually charges the iPhone very fast compared to other phones. #brilliant 7. Apple iPhone ( makes your mark in your friend circle Richy-rich :P ) Cons: 1. Apple should have increased the battery.Although they do promise to increase the performance with iOS 7 coming in months ahead. 2. Pricy. As its not manufactured or assembled anywhere in India the cost though increases. 3. Nano Sim slot. Some might find it tricky and scary as u need to cut the sim card carefully. #needless
Apple iPhone 5- Best Gadget A Man Can Get!
By Harshad Con
I'm reviewing this coz people need education about the iOS & other specs. Other people (Windows & Android user esp.) keeps bragging about iPhone being a costly phone as compared to others brands. I myself am a gadget freak & I've used almost every other Smart phone available in the subcontinent & the US. But I gotta tell you, if I've a Weighing-scale, I would keep all the other smart phones on one side and Apple iPhone 5 on the other. Yes I'm dead serious! This phone is the most amazing creation of Human since the inception of the gadgetry world. Be it the strong sturdy body, the Aluminum mirror finish or the display screen, it pounds my heart every time I see it! This isn't all, like the Substance Hardware, it has the Awesome Software i.e. iOS 7. Which according to me, is the most secured OS in the smart phone OS category, also a 'smack on the face' for those who keep whining about iOS being less-featured. This is the reason, I never recommend it to the common people. This is the Premium Handset & it should remain in the hands who actually appreciates the Beauty. Ther's a lot to talk abt this amazing Phone, I have done a lotta debates over the Android & iOS wars on Fb or twitter, it'll give me immense pleasure to clarify doubts regarding the misconception people have over the iOS & the iPhones particularly. Apart from that Flipkart's Excellent service has helped it to get delivered the product almost 2 days before the actual delivery date. Very Happy to order it from Flipkart (as I've received the promised 10% cash-back too) :)
Fantastic phone
By Dhawal Shringarputaleon
Absolutely fantastic phone. I have the S4, and I must say, this phone even without the better hardware beats it. It is a very intuitive experience, everything just works, and gives yoiu the least of troubles.
Three Stars
By Waseem Akramon
good phone but REALLY people will buy iphone 5 16gb at this ridiculous price!!!!!
Five Stars
By Mirza Golam Mohobubon
This iphone 5 awasome ....i used 2.9years but no problem ..I buy this ipone in universal shop 45500
Four Stars
By Amazon Customeron
This iPhone 5 is 4G support or nt
Three Stars
By Manraajon
Is iphone5 is better than 5s
2015 and still works very nicely... I've 6 plus too...
By Zohebon
used it for 3 years with no problem....
Apple iPhone 5 price in India summary
We have aggregated Apple iPhone 5 price and coupon offers available across all online stores in India.
Apple iPhone 5 lowest price in India as on Mon, 19 Mar 2018 is Rs. 13999.0 offered by Amazon.
We also have coupons from 1 stores for this product.
Most online stores provide delivery in all major cities in India including Mumbai, Bangalore, Delhi, Hyderabad, Pune and Chennai.
People looking for Apple iPhone 5 may also be interested in:
Apple iPhone 5 Video review:
Apple iPhone 5 price in India is
Rs.

13999 on 20th Mar 2018

Disclaimer:

Scandid is a search engine that crawls every online store in India to find every product that is sold online. We currently show products in Books, Computers, Electronics, Appliances and Personal Care categories. Although we make every effort to present accurate product and store information, including prices and stock availability, Scandid cannot guarantee and is not responsible for inaccuracies or omissions. Please give us

feedback

on these results!